The Rise of Yoga
Over the past few years, between lockdowns and a focus on mental health and wellbeing, the number of people taking up yoga has risen substantially.
With over 10,000 yoga teachers, 4,900 yoga businesses and 380,000 people in the UK alone reportedly practising yoga weekly, it is clear to see that the
yoga
industry is booming.
Research conducted by
Reebok
examines the rise of yoga in the UK, analysing the British cities where yoga is more popular, the trendiest yoga positions and the financial impact of yoga and the fitness industry in general. We also predict the future value of the yoga industry in the UK, based on the current trends of this practice.
Yoga industry in the UK expected to exceed £1 billion within the next five years
In 2021 it was
reported
that the yoga industry in the UK alone was worth £908 million. This figure represents the impact of an industry that is booming across most of the Western world.
It's no coincidence that the yoga industry peaked in 2020. The pandemic showed the importance of prioritising our mental and physical health and our wellbeing.
"Studies have proven that yoga reduces stress, improves mood, can help you sleep, plus you're connected with others as part of a community. The pandemic made us feel so isolated, and burn out numbers have doubled", says Georgia Beaven, yoga teacher and mental wellbeing advocate.
A similar opinion comes from Alex Manos, yoga teacher & specialist in musculoskeletal physiotherapy: "Yoga can really help with improving physical aspects such as flexibility, core strength, stability and even fitness with more intense classes. It also can have a big impact on reducing stress, anxiety and can help with being more mindful in day to day activities. It has a very good social effect too with many strong communities being formed around yoga studios".
Taking a compound annual growth rate of 2%, we can predict that the yoga industry market will be worth £926 million by the end of 2022, and in just four years time (2026) the industry is predicted to surpass £1 billion.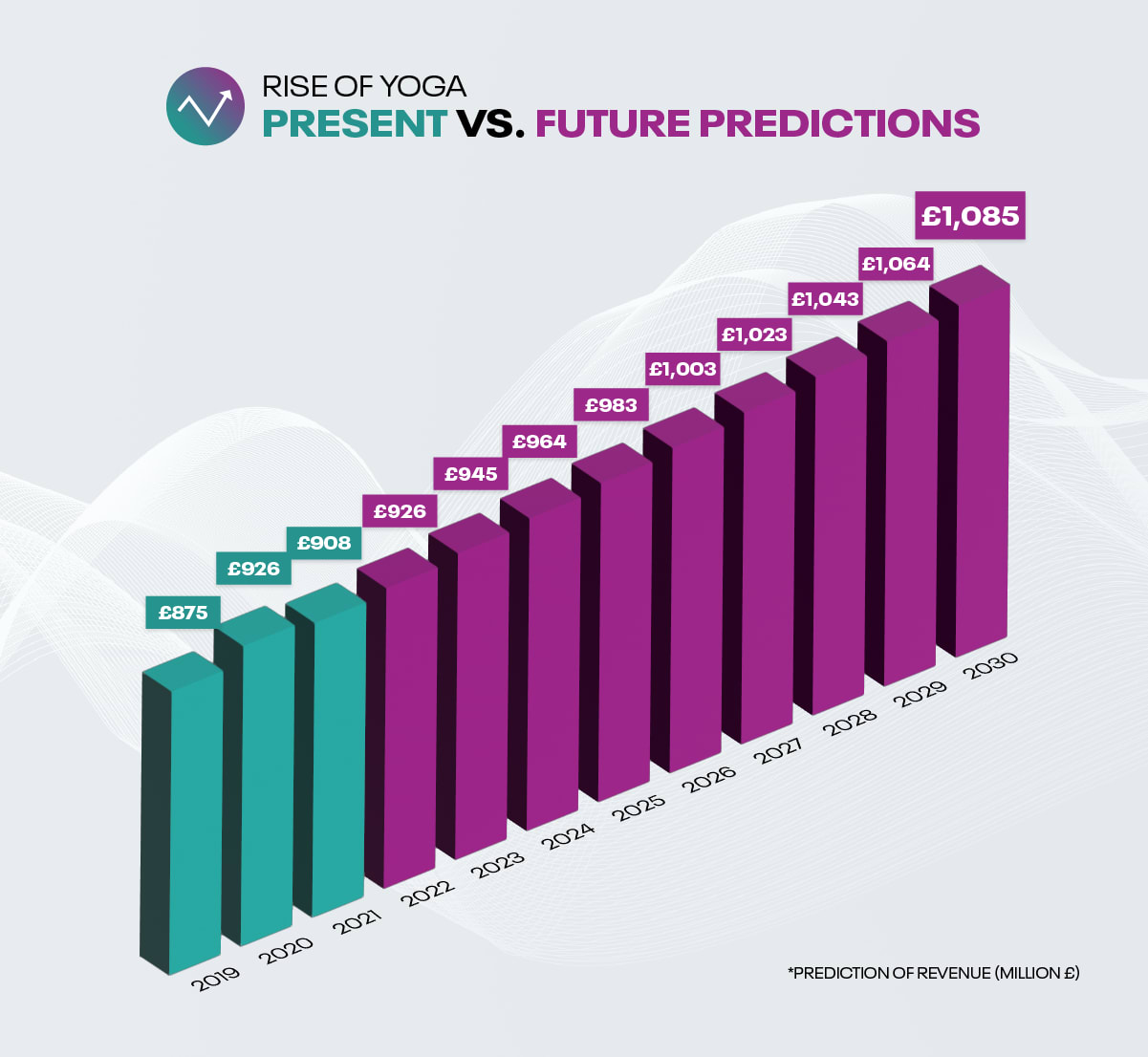 There are over 3,000 searches every month in the UK related to teaching yoga
We looked at numerous keywords related to yoga jobs to find out how much of the UK population is looking up jobs and roles in the profitable yoga industry. There were around 3,260 searches per month for those looking up how to become a yoga instructor.
This job prospect may be a good choice, with the hourly wage for a yoga instructor in the UK being £27.54 - but if you're looking into becoming an instructor, which types of yoga are currently the most popular in lessons and yoga retreats?
The top three most popular styles of yoga currently taught are:
Hatha - 26%
The Sanskrit word 'hatha' taken literally means 'force' - this is an indication of the type of yoga Hatha yoga is. Hatha yoga involves more physical techniques of yoga, and can therefore be considered more of a workout, than other yoga practises.
Vinyasa - 14%
Vinyasa yoga is all about the sequence of making your breath marry with your movement, flowing from one position to the next and keeping your breathing in a rhythm. Many people choose to do this type of yoga to wind down or relax.
Restorative - 7%
Restorative yoga is a yoga practice centred around calmness and relaxing the body. Therefore, less movement is involved and the practice is usually accompanied by blankets and props for people to rest on.
If you are thinking about becoming a yoga teacher, we have looked into which types of yoga are drawing the most attention, and could therefore be the most lucrative.
Hot yoga the most popular type of yoga in the UK, according to searches
"Many people are now starting to learn about yoga as a form of exercise, and its benefits. There are lots of different types of yoga. Some popular ones include Bikram Yoga, Hatha Yoga, Ashtanga Yoga, Iyengar Yoga, Vinyasa Yoga, Kundalini Yoga, Kripalu Yoga, Yin Yoga, and Restorative Yoga", explains Reda Elmardi, CEO of Thegymgoat.com.
The team at Reebok have analysed 20 of the most well-known types of yoga to find out which type of yoga people in the UK are looking up most.
According to the findings, hot yoga is the most searched for type of yoga in the UK. This is followed by Hatha yoga, a common type of yoga that most yoga classes encompass, and Yin yoga, which targets deep tissues in our body with slow-paced movements that are held for much longer periods of time than other types of yoga.
But is this data consistent across the UK?
Our study found that, though hot yoga was most popular among cities such as London, Manchester and Birmingham, Hatha yoga is the most popular type of yoga in Edinburgh - and Bikram yoga is the most popular type of yoga in Leicester.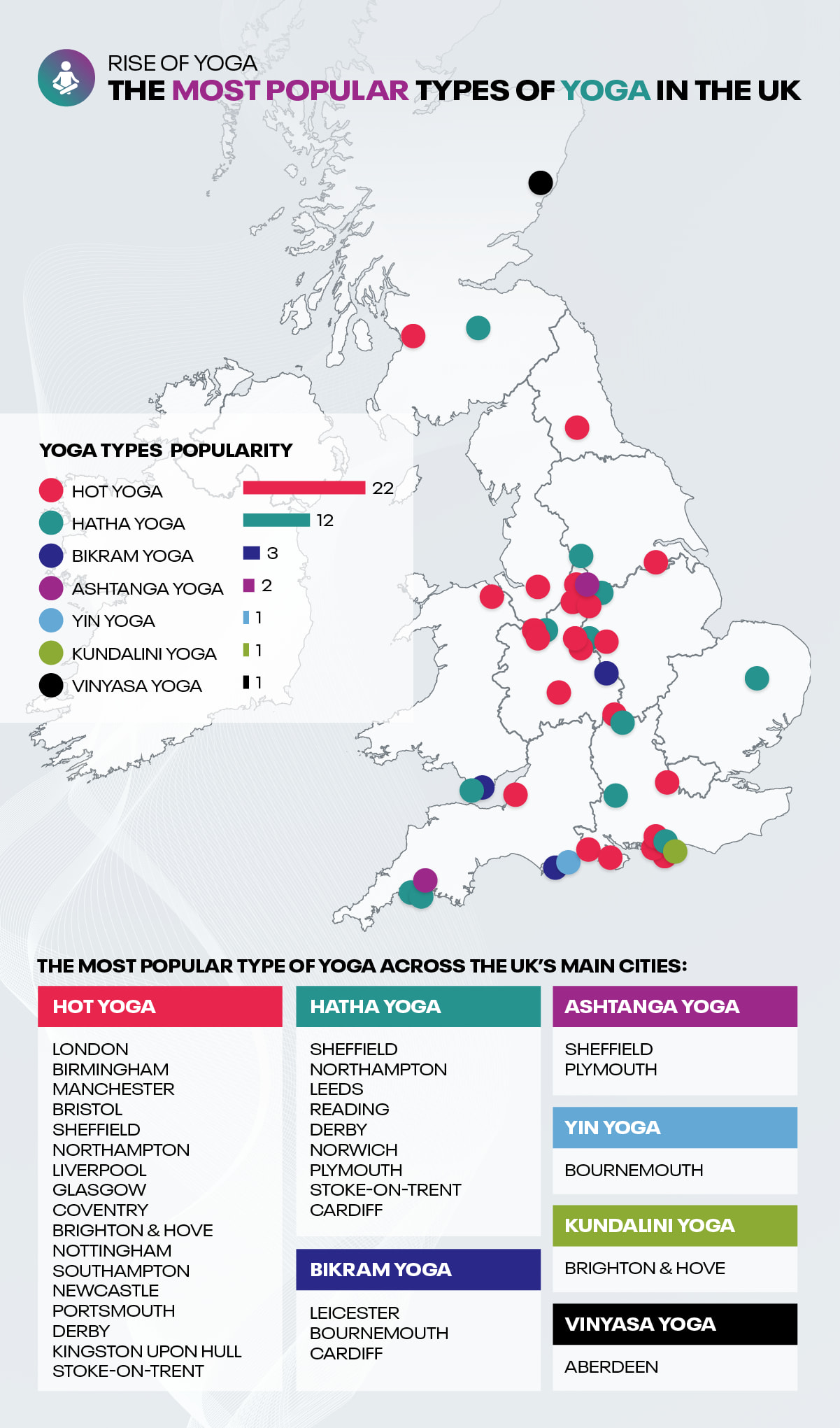 Wondering which city in the UK is most into yoga? When looking at searches for yoga per 100,000 capita, Norwich - where Hatha yoga is the yoga of choice - came out as having the highest number of yoga enthusiasts in the UK. The second biggest yoga loving city in the UK is Brighton and Hove who, as a city, like a mix of hot, hatha and kundalini yoga.
Child's pose is the most searched for yoga position in the UK
According to Michelle Critch, yoga instructor and co-founder of Modo Yoga, yoga postures can be characterised into seven main categories: backbends, forward folds, twists, balances, inversions, standing poses, and hip openers.
When analysing the search volumes of 25 of the most popular yoga positions, the child's pose (Balasana) comes out as the most searched for pose in the UK overall, with over 5.400 searches in the UK for this yoga position every month. The pose is known as a 'resting pose' and is usually done between a series of movements that will conclude with the participants entering a child's pose.
"Child's pose is an opportunity to stretch the spine and hips, as well as relaxing the head, neck and lower back", says Eloise Skinner, teacher, therapist and founder of The Purpose Workshop.
The second most popular pose is the cobra pose, a position which requires the participant to lie-down on their front, place their hands in front of their chest and bend their back whilst pulling their upper body upwards. This pose is searched for on average around 1,900 times in the UK per month. This is followed by downward facing dog and tree pose in joint 3rd place with 1,300 searches per month (SPM).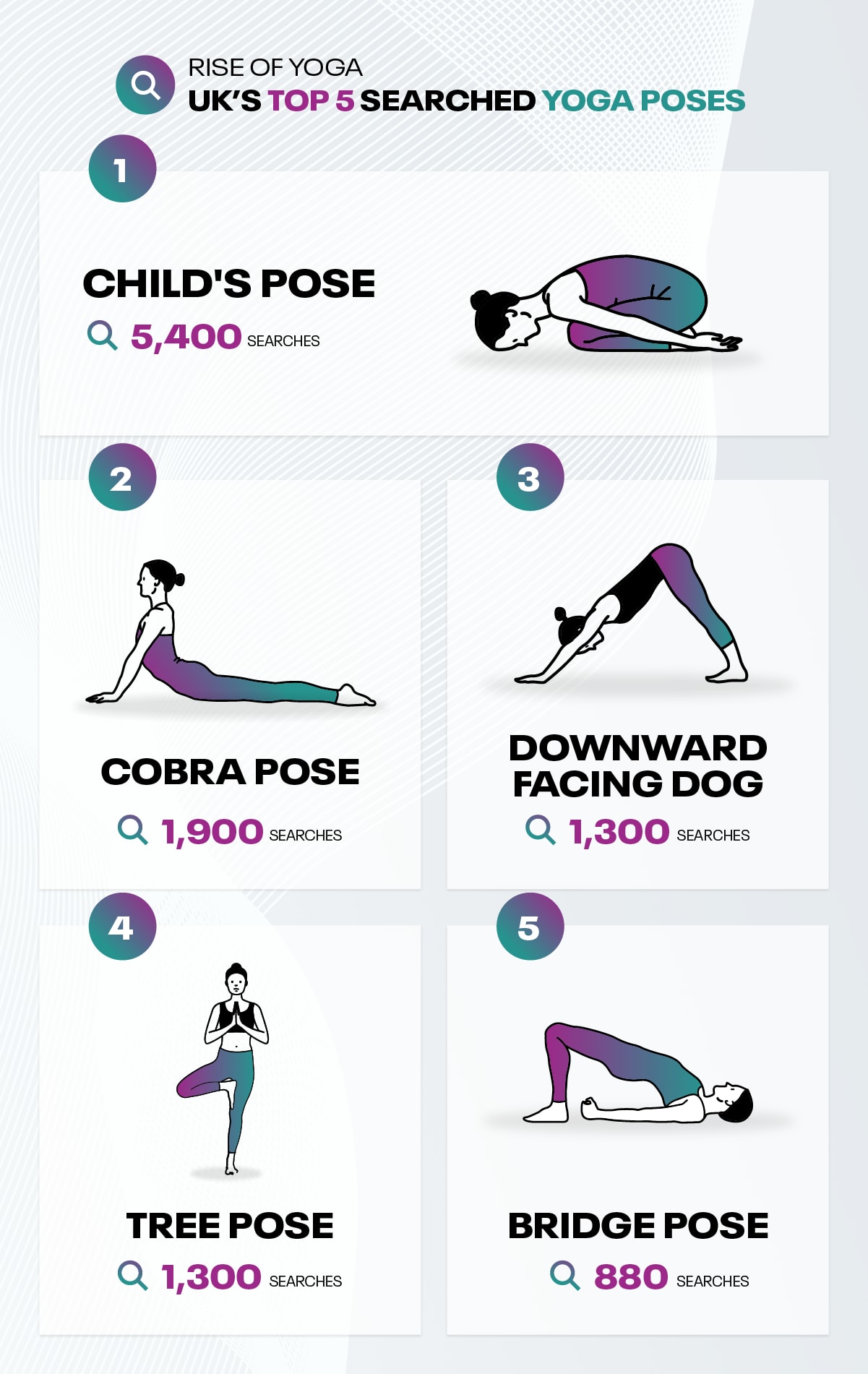 Both child's pose and cobra pose are praised by Shannon Leggett, licensed Physical Therapist, Yogainstructor, and owner of Shannon Leggett Physical Therapy: "Child's pose, Cat/Cow, Chair Pose, Tree Pose, Bridge pose, Warrior 2, Low Lunge, Baby Cobra-these are a great combo for posture, spine mobility, building strength in legs, mobility of hips, arm strength".
But when it comes to the best yoga position, it will always depend on the results and benefits that we want to achieve. "Many yoga positions can be beneficial in general, but some of the most popular and commonly recommended poses include Downward-Facing Dog, Child's Pose, Plank Pose, Upward-Facing Dog, Cobra Pose, High Lunge, Warrior I and II, Triangle Pose, and Bridge Pose. These poses help to stretch and strengthen the body, improve balance and flexibility, and promote mindfulness and relaxation", explains Yen Dinh, yoga teacher at Yoga Awaken.
Billi Mucklow and Hannah Barrett among the biggest yoga influencers in the UK
Not everyone has the time or money to join a gym or yoga class, but there are so many great yoga teachers online to follow who have hundreds of types of classes available to watch and join in with.
According to Charlotte Collins, Corporate Meditation and Mindfulness Instructor at X-Hail Meditation, "social media platforms like Instagram have led to a definite shift in the understanding of what it means to practice yoga and what type of person practises yoga. Yoga teachers and influencers are working hard to create more accessible and modern ways to experience the benefits and that is peaking the interest of even the most reluctant yogi or meditator".
These are five of the most popular yoga influencers in the UK to follow for inspiration to help you towards fulfilling your yogi potential:
Billi Mucklow decided to become a yoga teacher a little over 10 years ago now in 2011. She has since opened Hot Yoga Essex and is one the the most followed yoga instructors in the UK, specialising in Bikram Yoga.
Hannah Barrett is a London-based yoga teacher who has a huge following on social media. She holds classes in person and online as well as having her own YouTube channel. Barrett also released her own yoga app in 2020 that caters for all ages and abilities.
WELLNESS BLOG•YOGA TEACHER (@catmeffan) - 214.2k followers
Cat Meffan describes herself as a yoga influencer and lifestyle/wellness blogger. She is well known on social media for her yoga sessions which people can follow on YouTube. Cat Meffan is one of the biggest names in the UK yoga industry and is a great person to follow for yoga routines and yoga playlists.
Annie Clark is a London based yogi who focuses on cultivating relationships and empowerment through yoga. With a large focus on the mental aspect of yoga as well as the physical, Annie Clark is one to follow if you want to find out more about the deeper philosophies behind the yoga practice.
There may be more female than male yoga instructors out there to follow online, but Adam Husler is making waves in the yoga influencer community and is one to watch if you want a great example of a male yogi to follow.
Advice for beginners
For new yoga practitioners, the important thing is to set their priorities and choose a routine that will work for them and allow them to be constant.
Feel comfortable in your own skin. Holistic health coach Gabriela Bocanete recommends: "If you have never practised yoga, find some beginners classes in your area, go to at least 2 of those and choose the one that fits your specific needs in terms of age, fitness level and health conditions. For the days when you can't do a whole yoga class, take a 5-6 minutes break and practice the tree posture. If you do it regularly, it will improve your balance and focus; it will strengthen your core and leg muscles. Find your yoga practice and create more calm, vitality, resilience. Your body and your mind will thank you for it".
"Work on controlling your movements and gently adjusting so each move feels natural and comfortable to your body. Yoga is a personal practice, so you get to focus on how you feel and not worry about others", adds Samantha Clayton, Global Fitness & Nutrition professional.
You can practise even if you don't have too much time. "Yoga helps you feel good in your body even if you only have 5-10 minutes to stretch. It doesn't take much space to be able to practice, and so it has been the perfect skill to add to the repertoire", adds Whitney Whetten, founder, director and teacher of Yoga Art Space.
Create the right atmosphere. "I would set aside a space that is clean, organised and quiet. It's nice to create an inviting ambiance so that could be lighting a few candles or playing some of your favourite music to insight creativity", explains Jordan Ashely, Founder of the Souljourn Yoga Foundation.
SOURCES AND METHODOLOGY
We researched the revenue of yoga in the UK in the last couple of years and we applied a compound annual growth rate of 2% to predict the revenue until 2030.
We've created a list of yoga influencers in the UK, based on their number of followers and engagement rate.
We've used a list of yoga types, keywords related to how to become a yoga instructor and a seedlist of the most popular yoga positions in both English and Sanskrit to assess search volume and popularity across the UK.
www.wellnesscreatives.com
www.finder.com
Google Keyword Planner
Starngage.com
ninjaoutreach.com
www.finder.com
bookretreats.com