Fitness Trainer Index
With a series of lockdowns and health measures disrupting normal access to fitness opportunities, like gyms and classes, it's been challenging for many to maintain their usual approach to training.
As we come out of lockdowns and much of life starts to return to a degree of normality, the personal training market begins to stabilise and new opportunities open up.
Particularly with many now working from home and needing external support to really work fitness into their new lifestyle.
Research conducted by
Reebok
examines cities across the UK, and parts of Europe, to identify where the best place is for personal trainers to not only find higher demand and lower competition, but also where there are more gym facilities, where the average PT rate is higher, and where the cost of facilities is lower. These factors have been incorporated into an index to find the overall locations that offer the best opportunities for personal trainers.
Bournemouth is the best location for personal trainers in the UK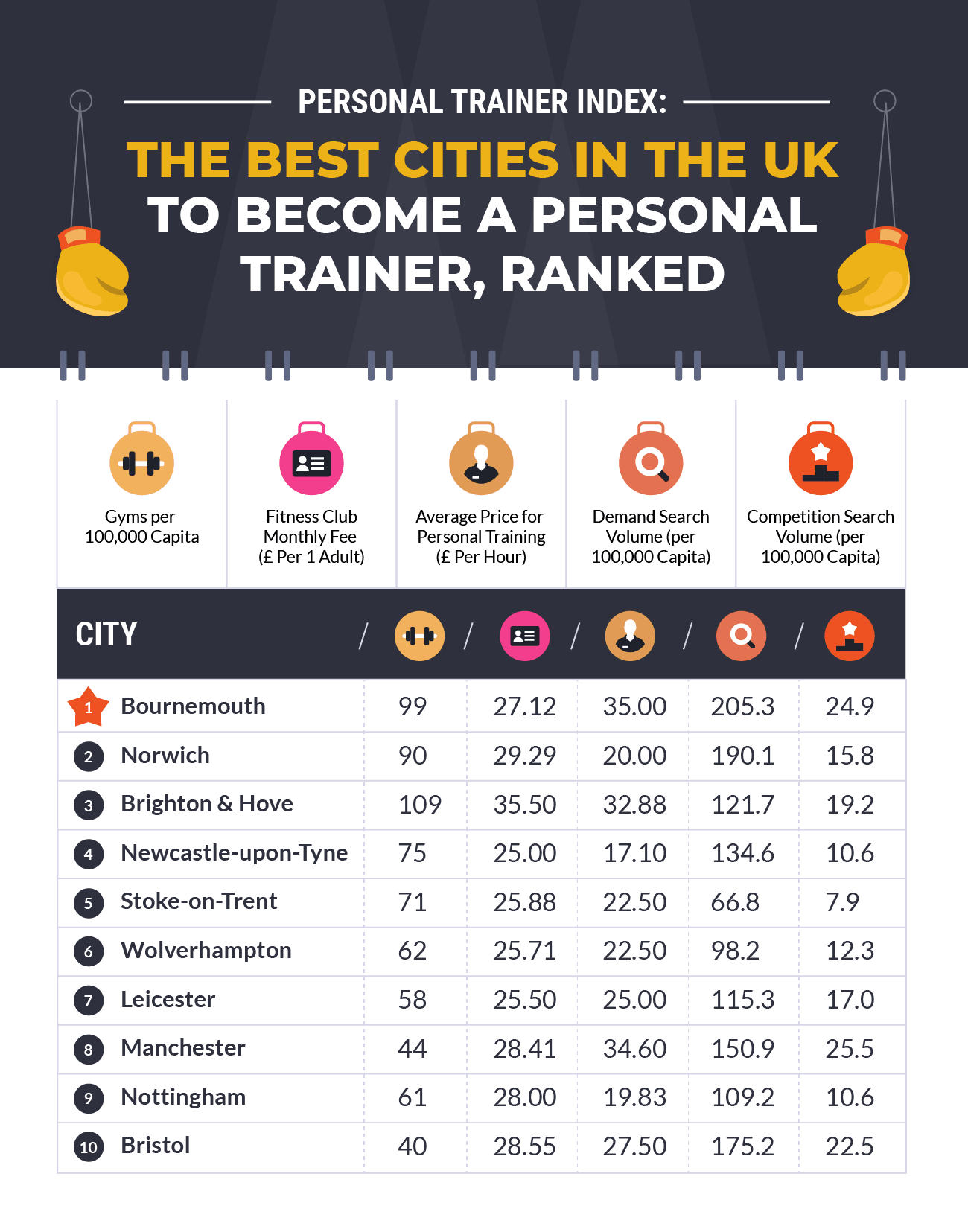 With nearly 18,800 searches a month for personal training across major cities in the UK, there's a clear demand for fitness professionals to provide direct support to those living in the UK.
There are, however, 2,300 searches a month on how to become a personal trainer, meaning competition can be fierce.
Accordingly, UK fitness trainers need to know the best place to start out their careers, where they have the best potential for earnings. These UK cities were the top contenders:
Bournemouth - With one of the highest number of gyms per 100,000 capita (99) and the overall highest search volume for terms seeking personal trainer support, Bournemouth offers a good starting point for any personal trainer; the average PT fee is also towards the higher end with fitness club costs towards the lower.

Norwich- Norwich also offers high demand per capita (190.1 per 100,000 people a month) as well as a high number of gyms and reasonably low gym prices. It does suffer slightly from lower average PT rates (£20 an hour) and slightly higher competition in terms of people looking for training to become a personal trainer, but it's still a great option.

Brighton & Hove - The seaside space is packed with places to stay in shape as the area offers the highest number of gyms per 100,000 capita (109). Personal trainer rates are high on average - £32.88 per hour - but so are the gym fees, at £35.50 a month on average.

Newcastle-upon-Tyne - The low competition for becoming a PT in Newcastle - only 10.6 searches per 100,000 capita - makes it a good location for those looking to carve out their own space. Demand is above average, and gym prices are quite low at only £25 a month, but the average rate for PTs is only £17.10 an hour.

Stoke-on-Trent - Stoke's midrange opportunities across the board and low gym costs (£25.71 a month) make it a good central option for all.
London is the worst location for new personal trainers
Meanwhile, London was the worst location overall, due to the lowest number of gyms per 100,000 capita at only 5, and while it had the highest average personal trainer fees, this was offset by also having the highest gym costs.
Bournemouth remains top for training demand; Reading has the most competition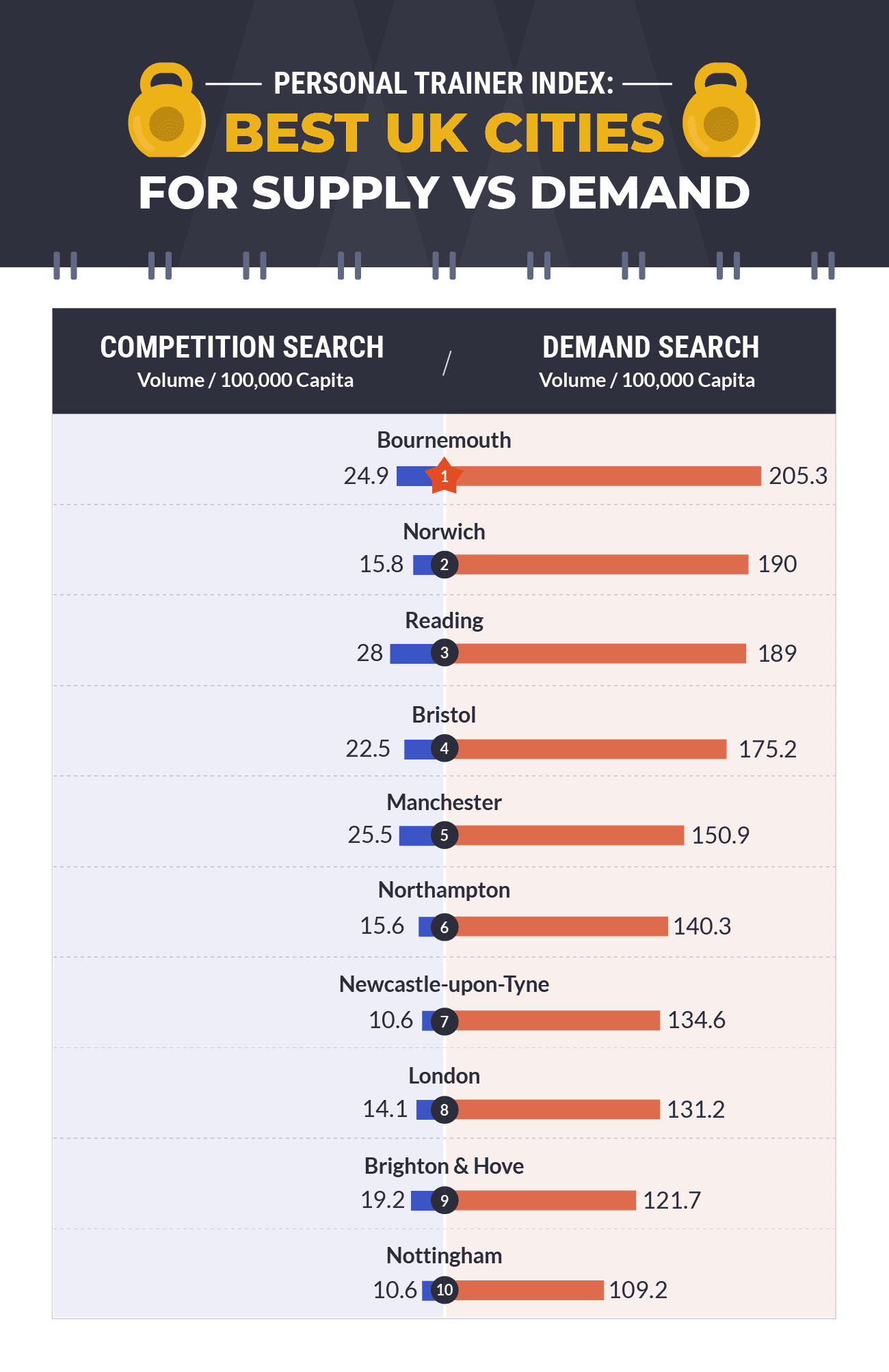 In terms of general demand, Bournemouth and Norwich remained top for searches for personal trainers, but Reading came in third position overall - though poorer price options for both gyms and PT fees mean it may not suit everyone.
Reading also had the highest level of competition for people trying to become personal trainers, followed by Manchester, meaning trainers in these locations might struggle to land clients.
Joe Wicks and Shona Vertue - the UK's biggest fitness influencers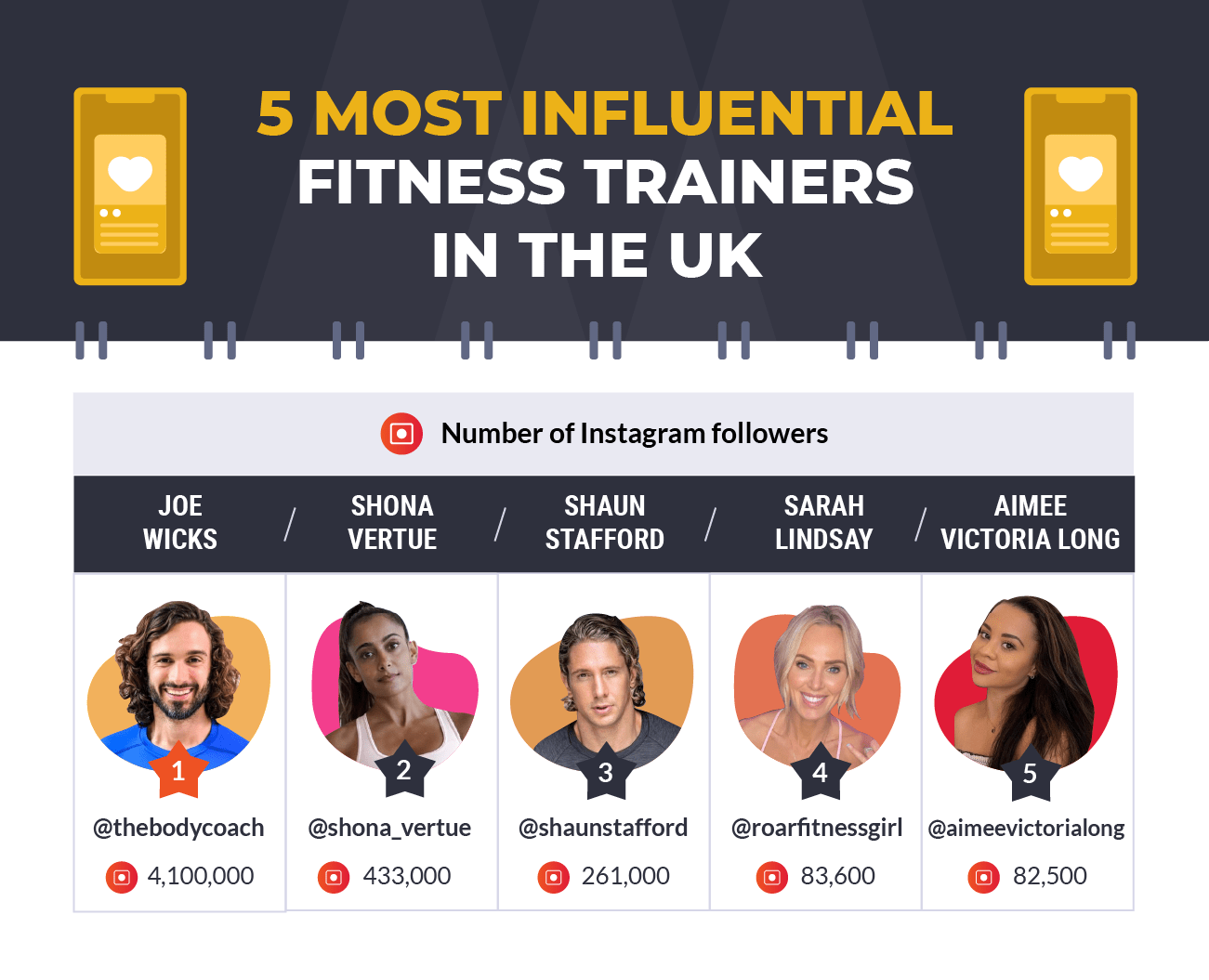 If you're not sure where to start out on your fitness journey, it can be valuable to follow in the footsteps of those who have made a name for themselves in the industry.
Some of the UK's top fitness influencers include:
Sources and Methodology
We collected, for a preselected group of cities in the UK, a set of metrics that reflected the opportunity available for a fitness trainer in each location. We then attributed an indexed score to each of these metrics and combined them to determine which cities within each country had the best opportunity available.
www.superprof.co.uk
www.numbeo.com
www.instituteofpersonaltrainers.com
Google Keyword Planner