The Global State of Fitness
Essential for both our mental and physical health, exercise has now been revealed as a key factor to fight against COVID-19
However, for city dwellers and their sedentary lifestyle, staying active is not always an easy task. According to the WHO more than a quarter of the world's adult population is not active enough.
A recent study by
Reebok
has analysed more than 60 cities across the globe to reveal the world's most active cities. 
The study is based on a wide range of fitness and health-oriented metrics such as the level of insufficient physical activity, the percentage of gym members, the percentage of bicycle usage and additional environmental metrics.
We've also partnered with fitness experts to comment on the state of fitness and share their tips on the best way to stay active and the best routines to improve our mental health and relationship with our body. 
Global Fitness: How Do The World's Cities Rank?
Globally, 28% of adults aged 18 and over were insufficiently active in 2016. According to the WHO definition this means they did not practise "at least 150 minutes of moderate-intensity, or 75 minutes vigorous-intensity physical activity per week".
High-income countries are particularly affected by this trend due to the prevalence of desk jobs, but exercising does not have to mean spending large chunks of time in the gym.
Juggy Sidhu, Nutrition & Health expert explains, "Not liking exercise should not define your activity levels. We know that activity has the power to add years to your life and quality to those years, so being more active really ought to be a non-negotiable part of your routine. This doesn't mean sweating it out in the gym for hours on end!"
However, some cities benefit from a more suitable environment for fitness than others, thanks to good air quality, a high number of green spaces and affordable gyms. 
Take a look at the world's twenty fittest cities below: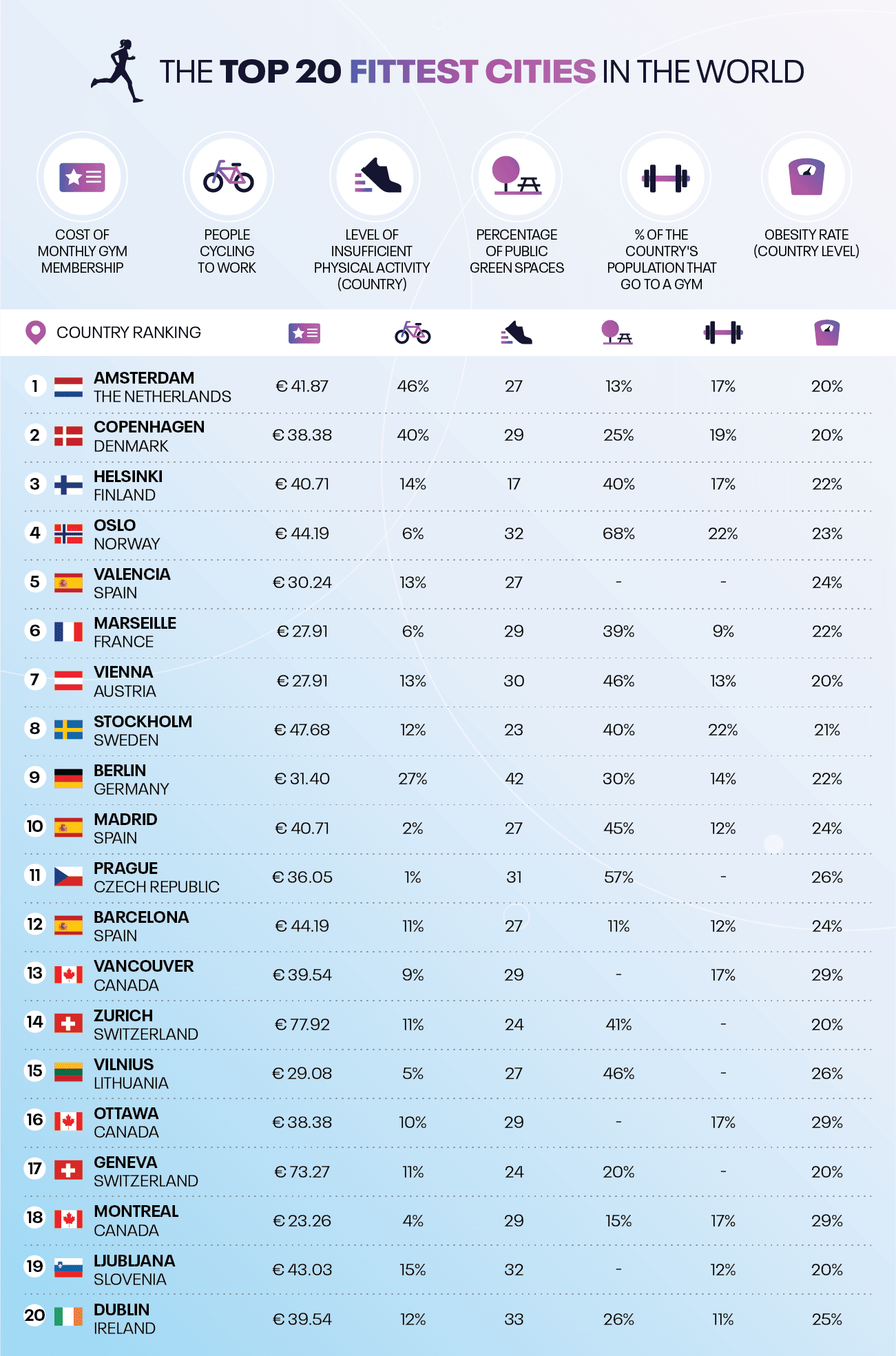 Amsterdam has been crowned the world's fittest city. The city boasts the highest number of individuals who cycle to work, at nearly 46%, as well as a large number of gym fanatics, nearly 17.5% of the population.  
People living in Oslo have the most access to green space, with 68% of the city available for enjoying nature. Tokyo has the smallest amount of green space available, at only 7.5%.
Those living in Berlin, Germany have the highest level of insufficient physical activity, with a score of 42.2. At the opposite end of the scale, Helsinki which sits in third place has the most active people with a level of just 16.6 for insufficient activity.
Zurich and Geneva share the lowest obesity rates in the top 20 with Switzerland having a 19.5% country-wide obesity rate. On the other end of the scale, the Canadian cities of Montreal and Toronto have obesity rates of 29.4%, despite Montreal having the cheapest gym membership, £20 a month. 
The Countries With The Most Gym-Goers
In some parts of the world fitness is an essential part of the country's culture. For some countries it is due to having a popular national sport, whereas for others, such as America, fitness-mania is tied to the goal of achieving a fit body. 
Find out which countries have the largest population of gym-goers: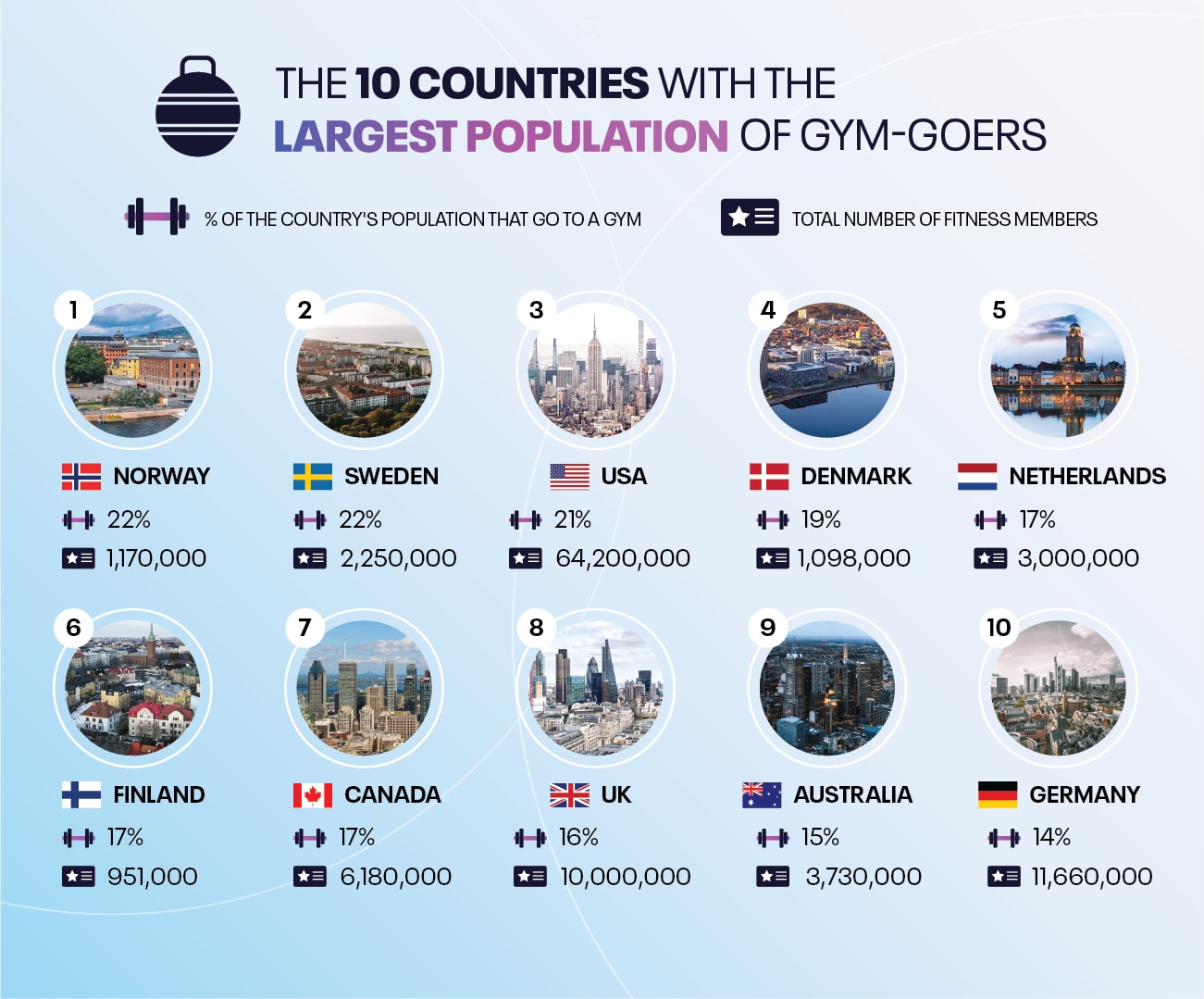 Norway and Sweden are both home to the biggest gym fanatics in the world, with 22% of their population heading to the gym regularly, closely followed by the United States (21.20%).
The US, Germany and the UK top the ranking for the highest number of gym members with 64.10 million, 11.66 million and 10.39 million members respectively. Those countries also recorded the highest revenues of the gym industry in 2019 according to
RunRepeat
, with the US gym industry reaching a revenue of 35.03 billion dollars in 2019 compared with approximately 6.17 billion dollars for the German and British industries. 


These Are The French Cities With The Most Active Residents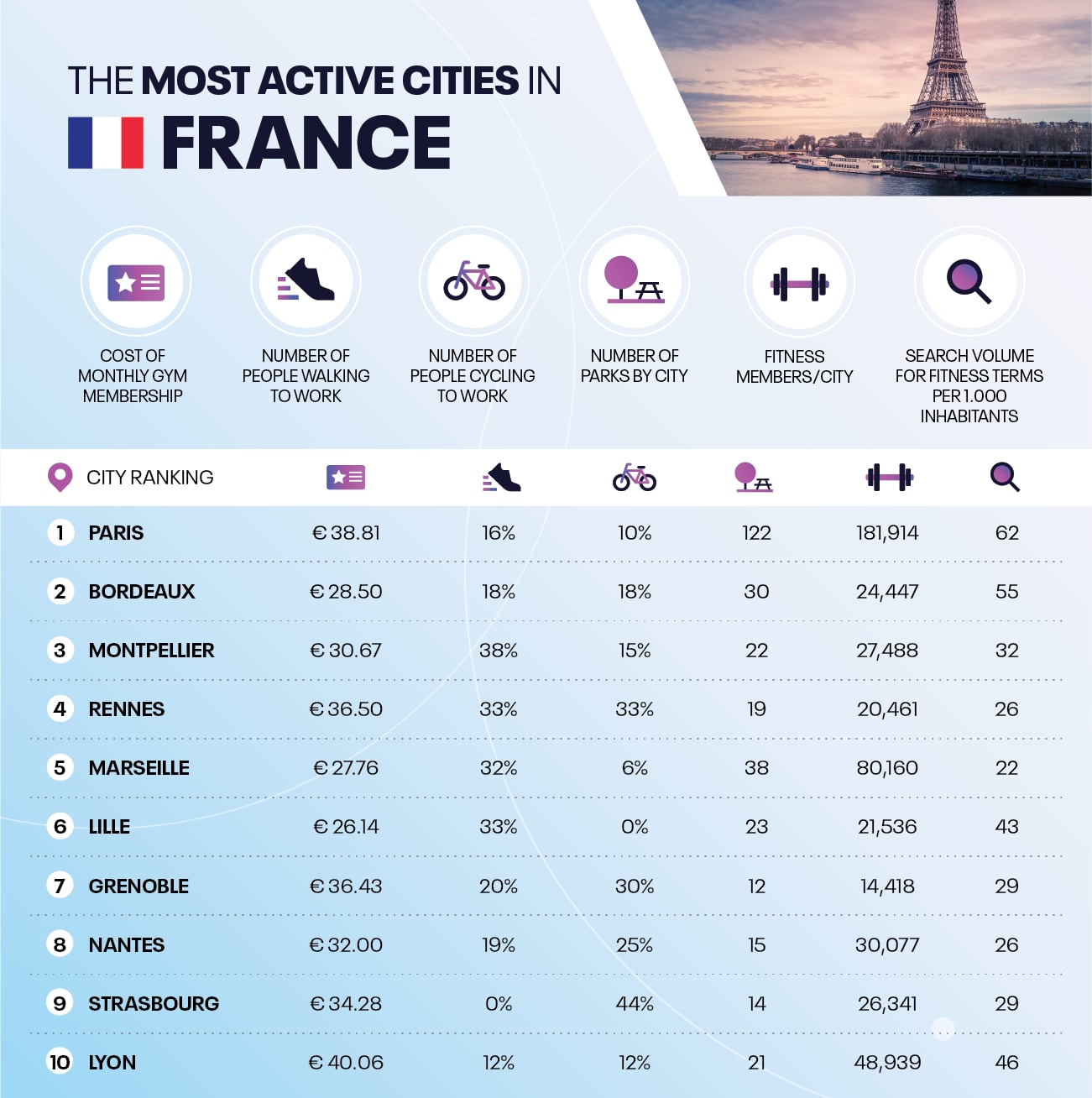 Paris has been revealed as the fittest city in France. Over 180,000 Parisians have a gym membership, and they also have access to 122 parks within the city. People in Paris are also turning to Google to help aid their fitness, with 62.45 searches per 1,000 inhabitants for 101 exercise-related search terms including "gym near me", "exercise equipment" and "upper body workout".
38.46% of workers in Montpellier walk to work, with 44.44% of employees choosing to cycle to work in Strasbourg. Individuals from Lyon have to spend the most per month to access a gym, an average of €40.06 with those in Lille having the cheapest access at €25.14.
These Are The Spanish Cities With The Most Active Residents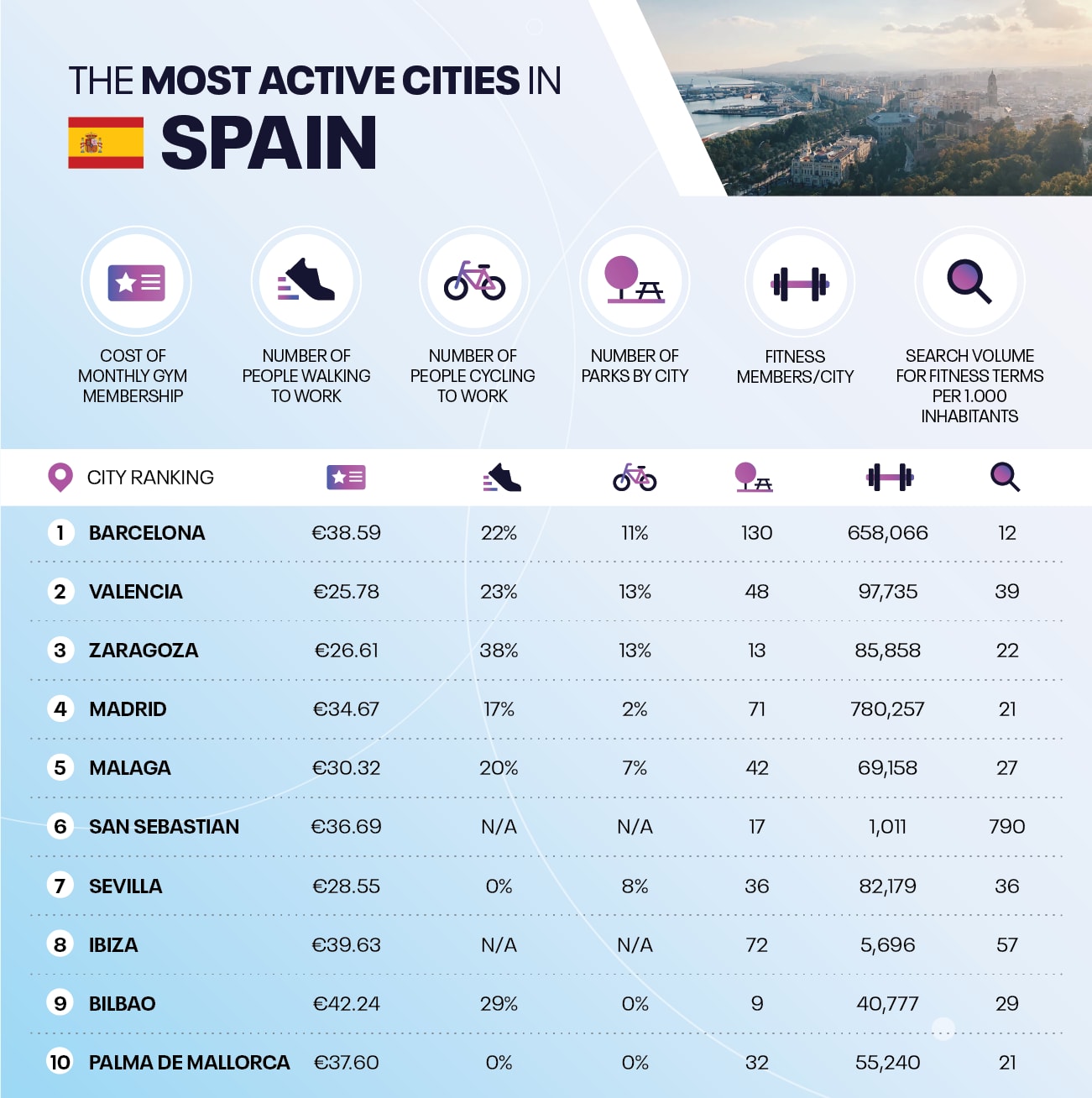 Barcelona takes the top spot as Spain's fittest city, with the coastal city having 130 parks. Capital city Madrid comes in 4th place with just 2.29% of employees cycling to work, but 780,257 citizens owning a gym membership. 
Bilbao offers the most expensive memberships at €42.24 a month with the cheapest being found in Valencia for €25.78 monthly. Valencia also has the highest percentage of employees who cycle to work at 12.9%, with 37.5% Zaragoza citizens more likely to walk to their job.
None of the Canarian cities make the list, but Balaerics cities of Ibiza and Palma de Mallorca can be found in 8th and 10th place respectively - just making the cut.
These Are The Italian Cities With The Most Active Residents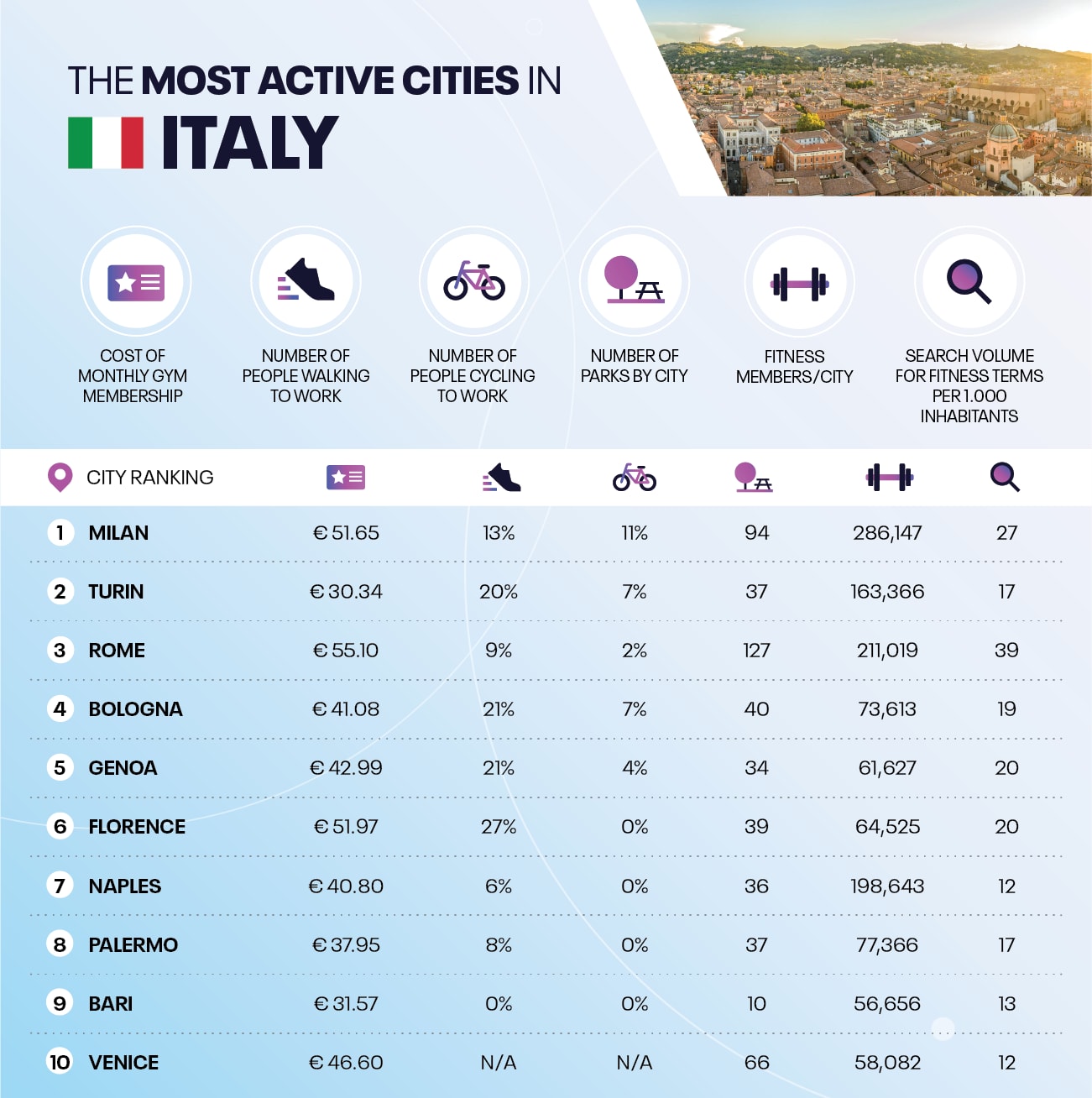 Milan has been revealed as Italy's fittest city. Just over 1 in 10 people cycle to work and 286,147 Milanese have a fitness membership. Florence boasts the highest percentage of workers who walk to their job at 26.67%.
Capital city Rome comes in third place with the highest number of parks, 127, but also the most expensive price for a gym membership, at €55.10 a month. The city with the cheapest monthly gym membership is Turin, in second place, where citizens pay €30.34.
These Are The German Cities With The Most Active Residents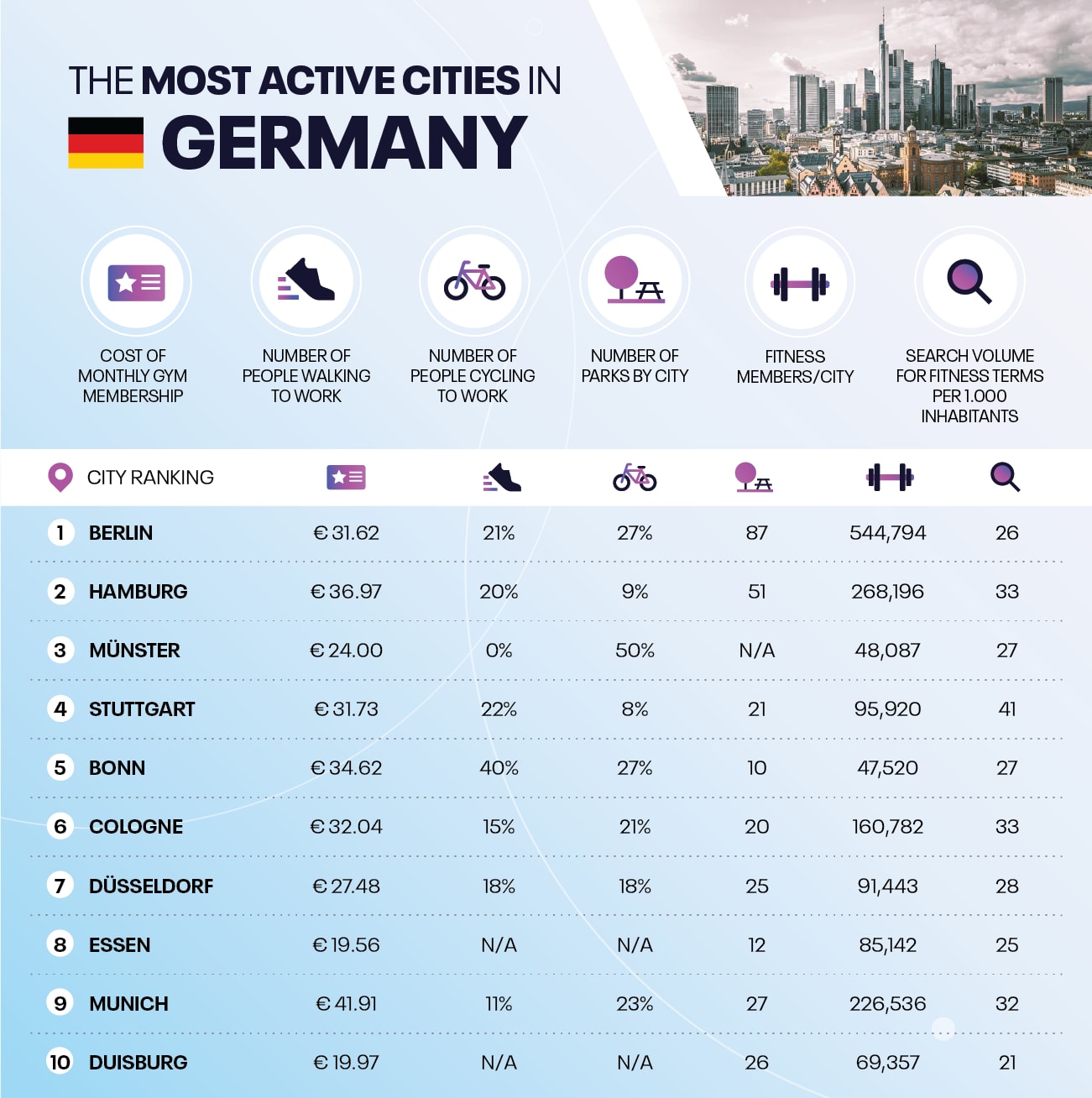 Berlin takes the crown as Germany's fittest city, with the capital boasting 87 parks - 36 more than its nearest competitor Hamburg. It also has the highest number of fitness members, with 544,794 Berliners owning gym memberships.
Nearly 50% of residents in Münster find themselves cycling to work, with 40% of employees in Bonn choosing to walk. Those living in Essen can make the most of the cheapest gym membership, at €19.56 per month. Munich has the most expensive gym memberships at an average of €41.91 a month.
How To Maintain An Active Lifestyle Regardless Of Where You Live
The past year has highlighted the importance of maintaining a healthy and active lifestyle more than ever. The pandemic has resulted in people having to experiment with exercise and come up with new and more creative methods of working out. 
Here are five tips to help maintain an active lifestyle regardless of where you live: 
Redefine the way you see physical exercise
Physical activity shouldn't be tedious and boring. Juggy Sidhu, Nutrition & Health expert highlights the importance to redefine the thought process around activity, "Mention activity to most of the population and we already have a huge mental block forming around the types of exercise this word connotes, from running to going to a class at the gym or resistance training. 
"All these activities seem very difficult from a beginner perspective: they feel time-consuming and "out of reach"; however, activity is so much more than formal movement and exercise. That's why redefining activity to mean "movement" can be so much more liberating." 
Looking at exercise as a way to stay healthy and not just as a way to burn calories or change our appearance makes it easier to incorporate into our daily lives. 
Do not use lack of time as an excuse, exercise can be incorporated into your daily routine 
Having a busy lifestyle often means that you might not have time to go to the gym. However "when it comes to staying active without the gym, walking is one of the easiest, most convenient activities you can do", says Dr Maryam Behnam from Chelsea Pharmacy Medical Clinic.
She also adds, "Cleaning your home regularly is another great way to ensure that you stay active during the week and that you keep moving. You can also do a workout while playing with your kids, whether it's jumping on the trampoline, dancing around your room or playing games together." 
Exercise doesn't mean a huge block of time in your day, little bits here and there can bring enormous benefits.
Make the most of your local resources 
Regardless of your location, one of the best ways to stay fit is to utilise the great outdoors. Juggy Sidhu comments "Staying active can be as simple as building in more movement around hobbies, such as exploring nature, taking up golf, joining team sports with peers or even calling a friend for a catch-up and going for a walk whilst talking." 
Making the most of your area's local facilities can also be a great way to maintain an active lifestyle. From joining an exercise class to checking out your local swimming pool, there's something for everyone. 
Nutritionist Ben Coomber explains "Amateur sports teams are also a good way to exercise, as often it's not about the quality of the sport but just the fact you're getting exercise and are out socialising with people. This can take a lot of the pressure away from these forms of exercise."
Include a variety of exercises 
When exercising it is important to include a variety of different exercises you love and enjoy in order to make it sustainable. Nutritionist Ben Coomber recommends a range of exercises that also improve mental wellbeing. 
Walking

"Walking is an easy way to get exercise and has a low risk of injury. It requires no equipment, you can do it anytime and anywhere, and can make it as social as you want."

 

Yoga

"Yoga is a great way to improve flexibility and strength in a welcoming environment. It's social and low intensity, but is very good for your core and joint strength which helps improve your overall mobility. It can also help prevent injuries if you do other sports, as well as delay things like arthritis in later life."

 

Swimming

"Swimming is an excellent form of cardio and also helps to build a bit of muscle too. It's low impact so the risk of injury is fairly low and you can train at whatever intensity you like."

 

Running. 

"One of the benefits running has over walking is that you can burn calories quicker, so if fat loss is your goal or you have a busy schedule, running could be the exercise for you. 

"Going outside for a run is also great for your mental health, be it in the morning to psych yourself up for the day, or in the evening to work off any excess energy or stress you may have."

 

Dance

"Dancing is often overlooked as a form of exercise, but it can be a great form of cardio, can be done by people of all ages and is a social activity which makes it a great way to support your mental health."
Find an exercise you love 
Finding an exercise routine you love is a great way to create sustainable healthy habits. Tig Hodson, Co-founder of 
strongher.co.uk
says, "It's really important that people find things they love to do. Staying active looks different for everyone; it could be quite simply walking, rock-climbing, it might even be dancing. The gym environment isn't necessarily for everyone and so finding things that work for you, your budget and the time you are willing to prioritise to it is really important." 
Find the right exercises for your specific needs 
Your body is constantly changing, and major events in your life such as childbirth or ageing can have an impact on the exercise you can do. You should embrace what your body is capable of and adapt your routine to its needs. 
Gemma Nice, Easyoga Founder and Yoga Instructor, shared some advice for exercising as a new mum "After getting the all-clear from the GP start slowly exercising by going for a gradual walk and then upping it to a brisk walk. Use resistance bands to help keep your strength up and go gentle. Also, meet up with new mums, make new friends and get out and do some exercise together."
Gemma adds when experiencing neck and back pains "Target those areas which are painful by going gently and allowing the muscles to stretch. You don't want to overdo it but then those particular muscles need stretching to get the oxygen to them for faster recovery."
The best forms of exercise are also dependent on age. Ben Coomber, Nutritionist comments "For kids and teenagers, getting them moving for an average of 1 hour a day is ideal. Sports clubs or other activities like dance or martial arts are a great way to do this. 
"Your 20s and 30s are a great time to build some muscle, so weightlifting and bodybuilding are good options. For people aged 40 and over, lower intensity and low impact forms of exercise have the lowest risk of injury so walking, or cycling and swimming are good choices." 
Reebok is here to support you regardless of your activity. Check out our
products by sport
to choose the right equipment for you. 
Methodology: 
Global Ranking 
We collected data across 9 metrics for 67 cities around the world (please see all metrics below) and attributed an index to each of these metrics to determine which were the fittest to live in."
We chose the biggest cities from OECD countries and added cities including Brazil, India, the Philippines, South Africa to get a better representation of different continents. 
Metrics: 
Country ranking 
The country ranking analyses the 20 biggest cities based on 5 metrics. Each of these metrics were attributed an index to determine which were the fittest cities to live in.
Metrics: 
Cost of monthly gym membership by city 
Number of people walking and cycling to work by city 
Number of parks by city 
Number of fitness members 
Search Volume per 1.000 inhabitants of a list of keywords related to sport and gym equipment, using Google AdWord
Sources: