The Importance of Body Inclusivity and Representation in Fitness
The concept of body positivity and inclusion has become increasingly popular online within the last decade. With over 14.5 million posts promoting the 'body positive' hashtag on Instagram today, more and more brands are joining the social movement in order to become more inclusive.
A recent study by
Reebok
highlights the most body positive countries and influencers across the globe in an effort to shed light on the state of representation and make the world more accepting of each other, both online and offline. 
How body inclusive major countries really are
The community surrounding body positivity has experienced an exceptional growth spurt over the past decade. Joe Mitton, Personal Fitness Trainer at MittFit says the biggest factor that makes this positive movement thrive is acceptance: "Social media has given us a great platform for showcasing the best of our lives and has helped improve understanding and awareness, especially when it comes to the realistic expectations of what a 'normal' physique is." 
According to our study, the UK is paving the way for a more positive media landscape with high media coverage on body positivity scoring the highest out of all the countries analysed. Following suit is the United States, coming in as a close second. Next is Ireland who not only has the most media coverage about body inclusivity, but also scores a 8.20 overall making it the third most inclusive country.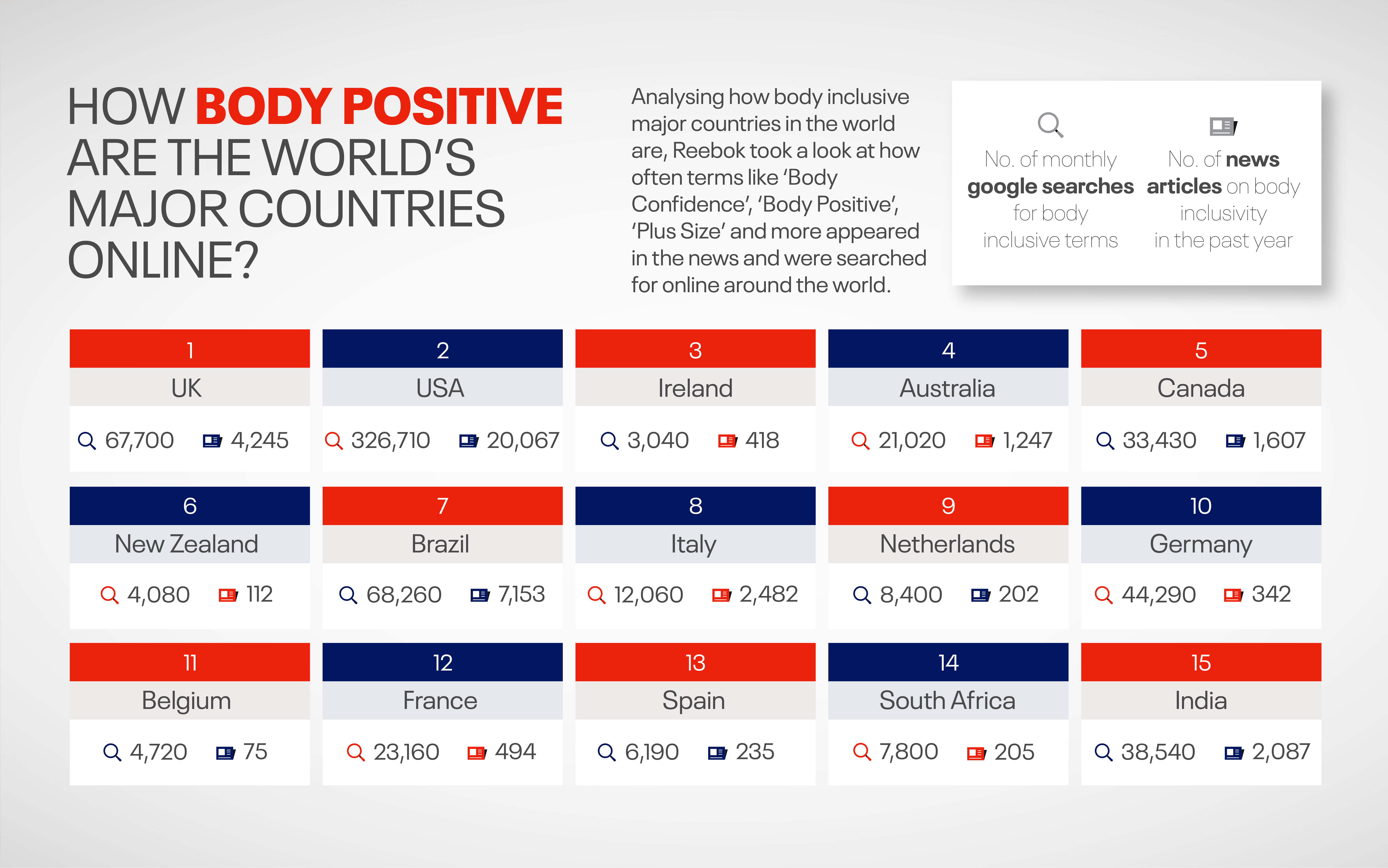 Jenna Rigby, a Body Transformation Coach, says "body positivity rejects the implication that any size is more appealing than another and has recently evoked strong emotions around the way brands market to women in particular." She adds that there is "increased pressure in the fitness industry as a whole to prove inclusivity to people of all sizes."
When it comes to speaking of ways for everyone to be more inclusive, Joe Mitton, Personal Fitness Trainer at MittFit also says a key element is removing social pressure: "as a society we really need to stop putting pressure on people (mainly women) to look a certain way and focus on how we can help each other. We need to reduce the unrealistic extremities of what people feel they need to reach in order to 'be happy', this is where fitness communities will play a huge part just by supporting each other with accountability and education on what the right things to be doing are."
How London became the most body inclusive city on Instagram
London might be known as a trendy metropol, but modeling agencies in this British capital are some of the most inclusive when it comes to handing out contracts.
Over half of London models are considered to be diverse men and women. Following suit in the trend to diversify media, are Paris and Berlin based modeling agencies where nearly half of models differ from the stereotypes.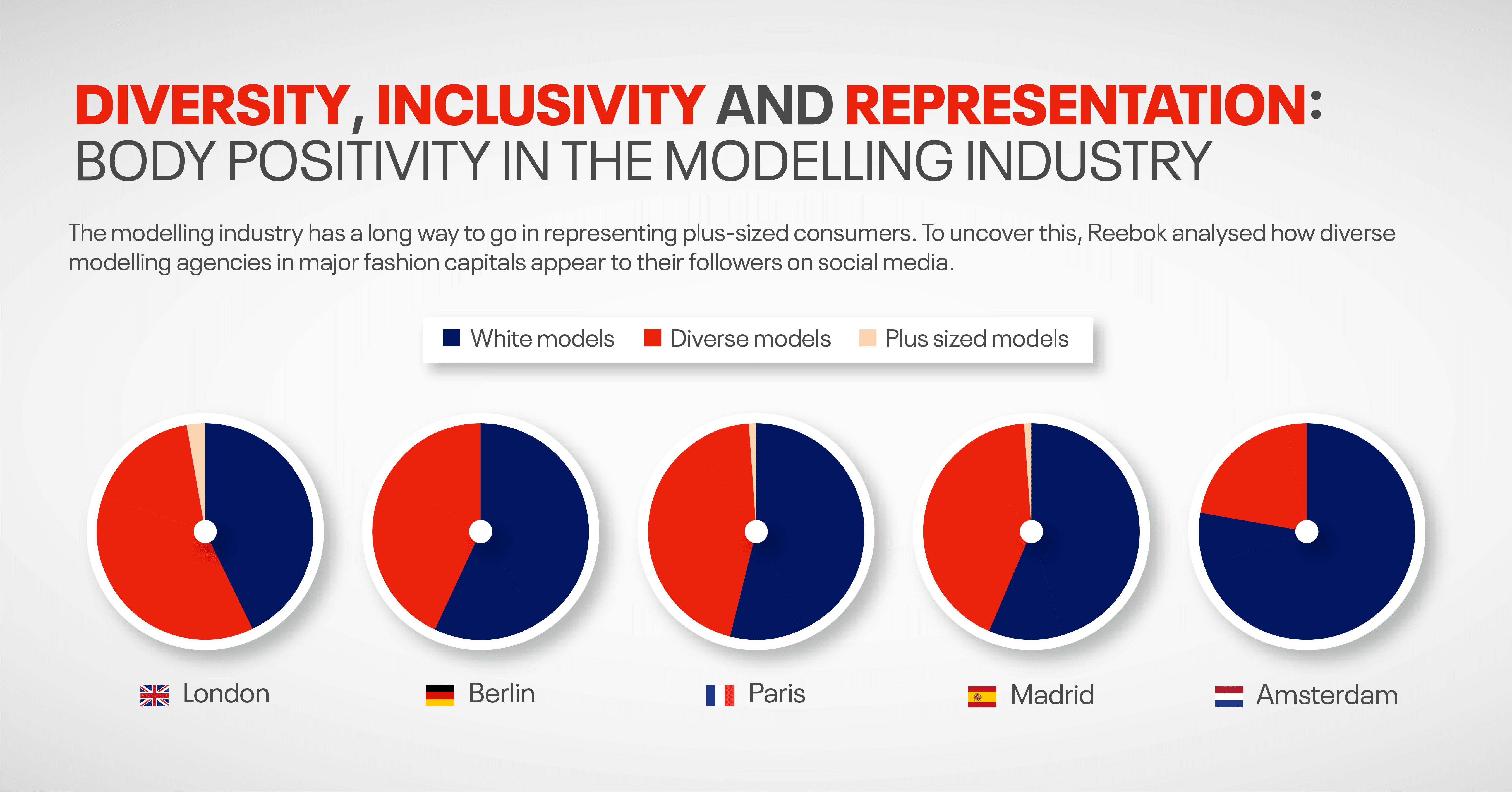 Social Positivity: How Body Inclusive Instagram Really Is
In recent years, the positive and inclusive way we talk about our bodies and each other has gained popularity over the usual perfect image we are used to scroll by on social media. According to body transformation coach, Jenna Rigby:
"Perfection social media has evolved over the last decade, where 10 years ago a fitness influencer posted pretty imagery of them working out compared to today, where people are seeking out "real" influencers to follow. They want to see other mums, older women who prove that the lifestyle is a possibility and not just a distant dream." 
According to our study, the UK has the most inclusive fitness influencers, with 8.37% of posts from some of the top UK fitness influencers highlighting body positivity. Compared to France and the Netherlands, the UK is ahead in representing plus-size consumers as the focus for body inclusivity in these countries are significantly lower, leaving them quite a bit of space for growth.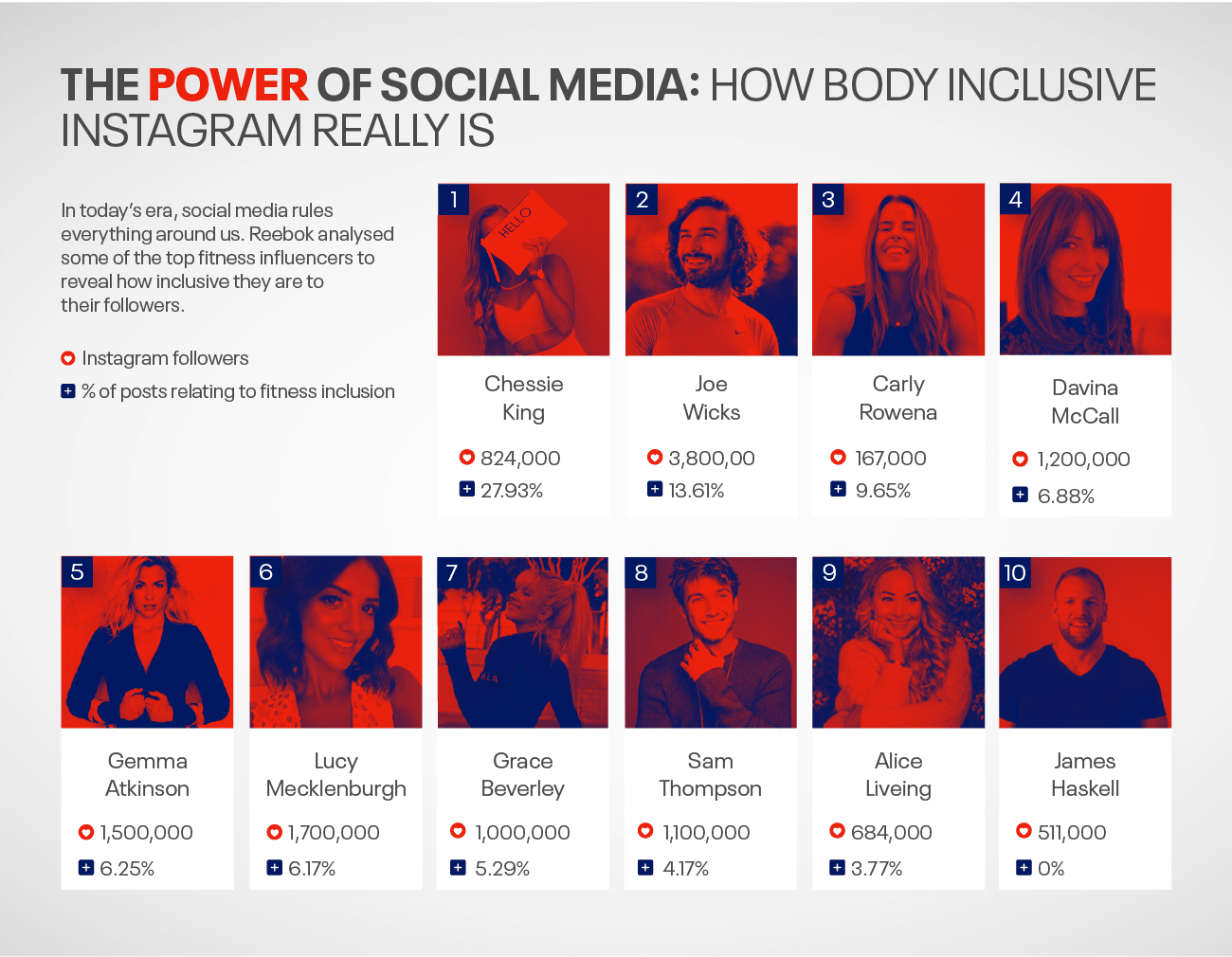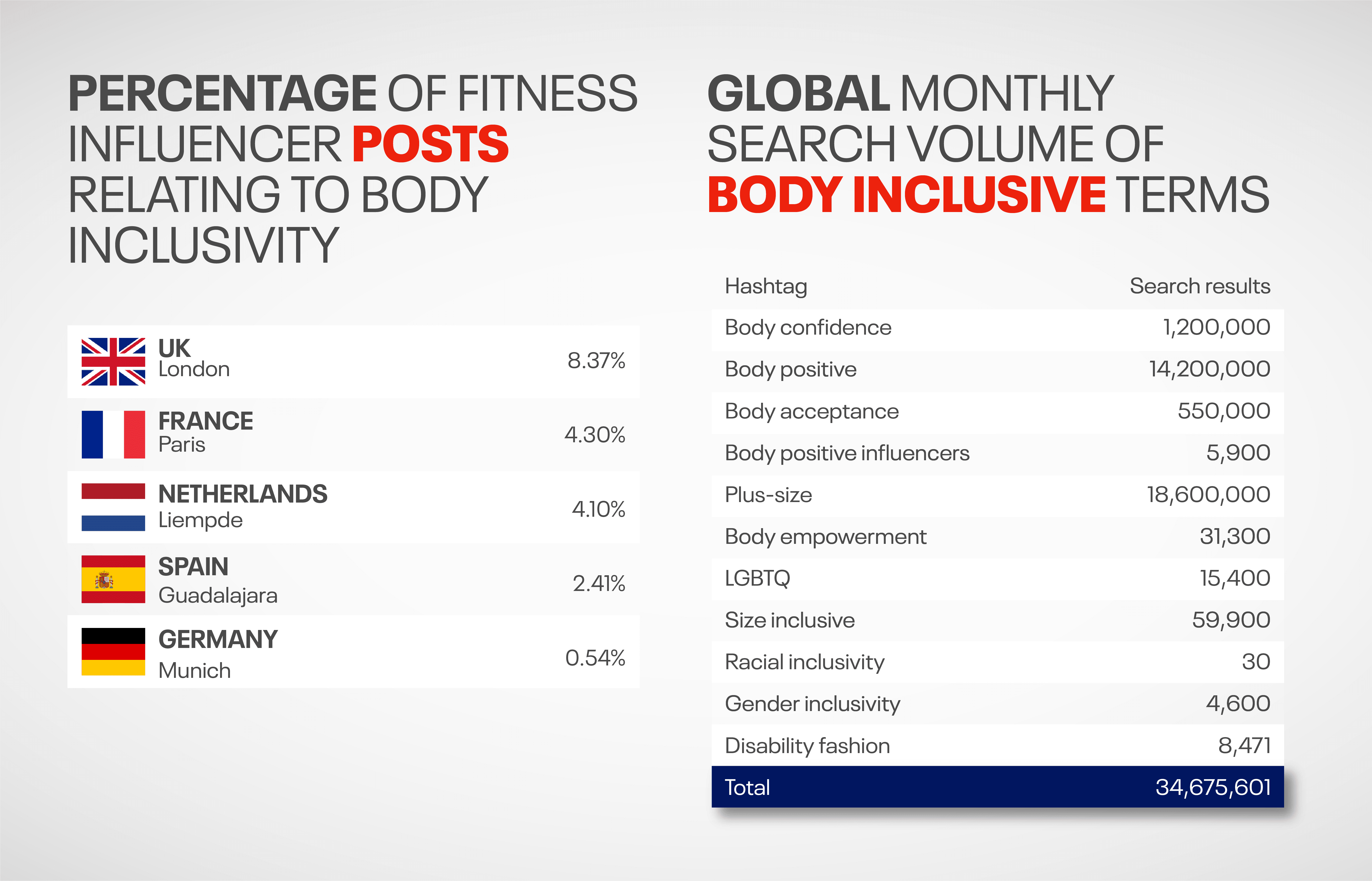 How The Online Body Positivity Community Has Grown In The UK
Melissa Howard, founder of The Confidence Academy, sees the body positive movement gaining tremendous traction over the past decade due to the boom of social media platforms, passionate influencers and celebrities, as well as the rise of #BOPO inclusive brands. 
"The re-evaluation of conventional beauty standards has evolved in response to the growing trend where body equality is accepted and celebrated.
Consumer trends and culture changes in relation to this social movement have influenced how media promote and advertise inclusivity.  In 2018, nearly a third of the models who took part in a New York Fashion show could be considered diverse men and women."
In Britain, body positivity has gained a platform within schools allowing teachers to educate pupils on the importance of valuing their own individuality: "the new generation is taught how to feel confident about who they are due the links to confidence, self esteem and mental health in both adolescent and adult life.  A 2019 study carried out by the Mental Health Foundation (MHF) showed that poor body image affects all ages and genders, leading to one third of adults feeling anxious or depressed, and one in eight having suicidal thoughts."
There is no doubt globally that there is a long way to go to make the world more inclusive of body size and beauty standards. But hopefully, in the near future the body positive community will continue to grow and influence real change to societal expectations.