Color Your Life and Closet with this DIY Trend
When inside is the new outside, curb boredom and infuse some much-needed color into your routine with tie dye.
As tie dye looks marched down the runway in anticipation of this spring, it didn't take long for shots of vibrant styles and groovy color combos to flood our social feeds. This major throwback not only brings color and nostalgia back during dreary at-home circumstances, but the trend has become a quarantine DIY phenomenon.
For those of us that have exhausted all coloring books, puzzles and online quiz games, a cure for boredom when being cooped up is essential. "Tie dying has become the perfect creative outlet," says Laura Lydon, Sr. Manager, Merchandising & Styling at Reebok. "People are looking for ways to make cozy clothes more interesting right now and tie dying is a great, low budget way to do that." Even better, it means you can repurpose your wardrobe
sustainably
through a creative upcycling of your clothes.
Because every tie dyed piece is unique, this colorful comeback allows you to tell your own individual story through items in your closet. If you're worried that you can't pull the multicolored look off, there are numerous ways to incorporate everything from denim to a solid maxi skirt to make it more palatable. Lydon says, "Right now, matching tie dye sweatshirts paired with sweatpants has become the unofficial quarantine uniform. If you are wearing just one tie dyed piece, since it is a statement on its own, look to style with a neutral piece to keep it the focal point."
For first-time DIY-ers wanting to bring color and nostalgia to their closet (or just uplift their spirits), Lydon emphasizes the need to keep it simple and enjoy the process. "Have fun with it! There isn't really a 'right' way to do it. Each piece will turn out unique, so don't worry too much about the color application or the rubber band part." And, with the right fabric and textures, unique colors can really do the talking. "I noticed that light cotton materials definitely hold the dye the best. For color pairings, pinks, blues and purples pair well together - but it really comes down to personal preference."
Lydon lends her expert styling voice to tie dye techniques that help you nail the process and inject some psychedelic spirit to your closet. With minimal supplies needed at a low-cost, you can dare to try spring's newest trend and put your own spin on vibrant prints with these techniques below. So get that dye kit and prep your DIY workspace, because tie dye is back.
TIE DYE PREP: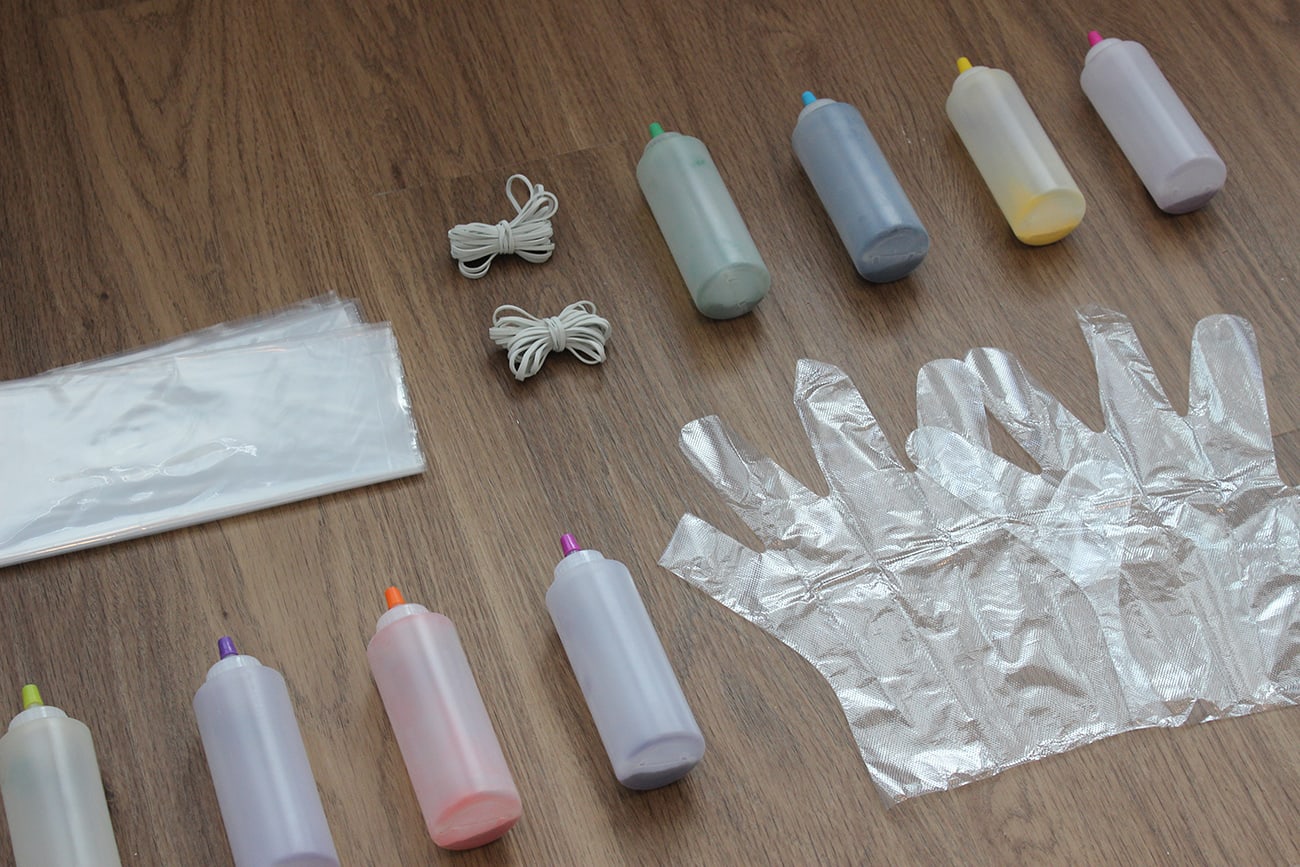 Dampen any pieces you plan to use
Make sure to pre-wash any new pieces you may have bought
Grab your materials:
Rubber bands
Plastic covering/towel/sheet/boxes
Gloves
Dye kit
Ziploc bags
Prep your workspace. Lay down an old sheet or towel, flattened boxes or work outdoors if possible. Have a towel or an old tee that you don't mind getting stained and use it to pre-test your colors. This helps to see how your creation will look before committing.
Decide on the colors you want to use and the tone you want. For neon/bright colors, just add water to dye powder. For a more sophisticated hue with lighter/pastel tones, add water to dilute 1-2 times. Note: Be careful not to add too much water if diluting colors for a pastel look. If you dilute too much the dye doesn't keep. The best results come from only diluting the color once or twice, max.
Decide on what tie dye pattern you prefer. If you are feeling a little overwhelmed by the seemingly infinite number of tie dye techniques (bullseye, stripes, sunburst, etc.) you can follow two great options as your blueprint below.
SPIRALING TECHNIQUE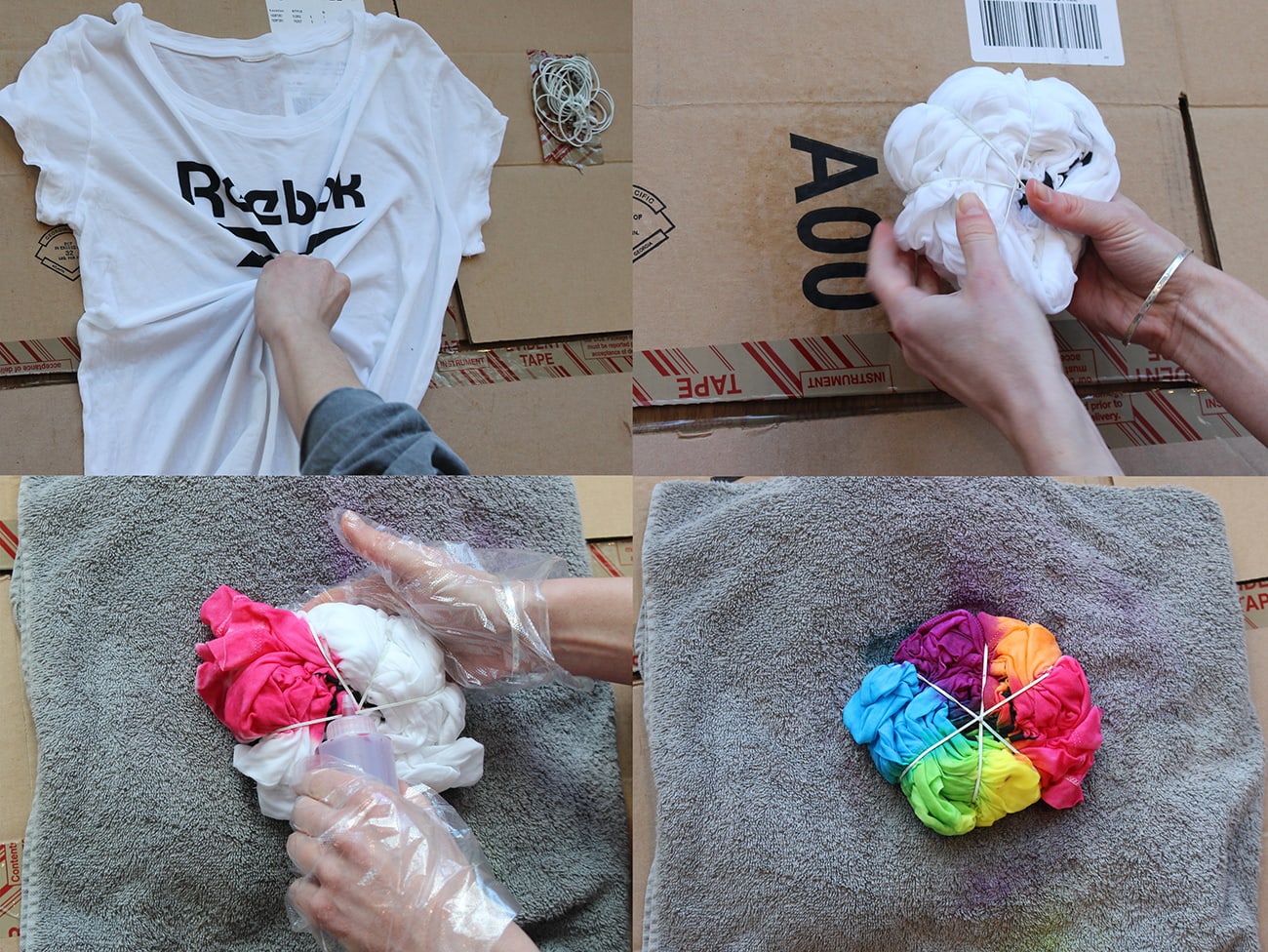 Start in the middle of the tee (or wherever you want the center of your spiral to be) and twist until your shirt is gathered into a compact circle. Take 3 rubber bands and wrap in a hexagon-like shape.
Put gloves on and grab your colors. For spiral, 5-6 colors tend to look best.
Add color to each section. Make sure each color meets in the middle point of the rubber bands.
Flip piece over and do the same thing to back, making sure to align with the colors in each section that you did on the front side.
Put the piece into a Ziploc bag and let sit for 6-24 hours, depending on how bright you want it. (Even with pastel colors, you'll capture best results when the colors sit for 24 hours.)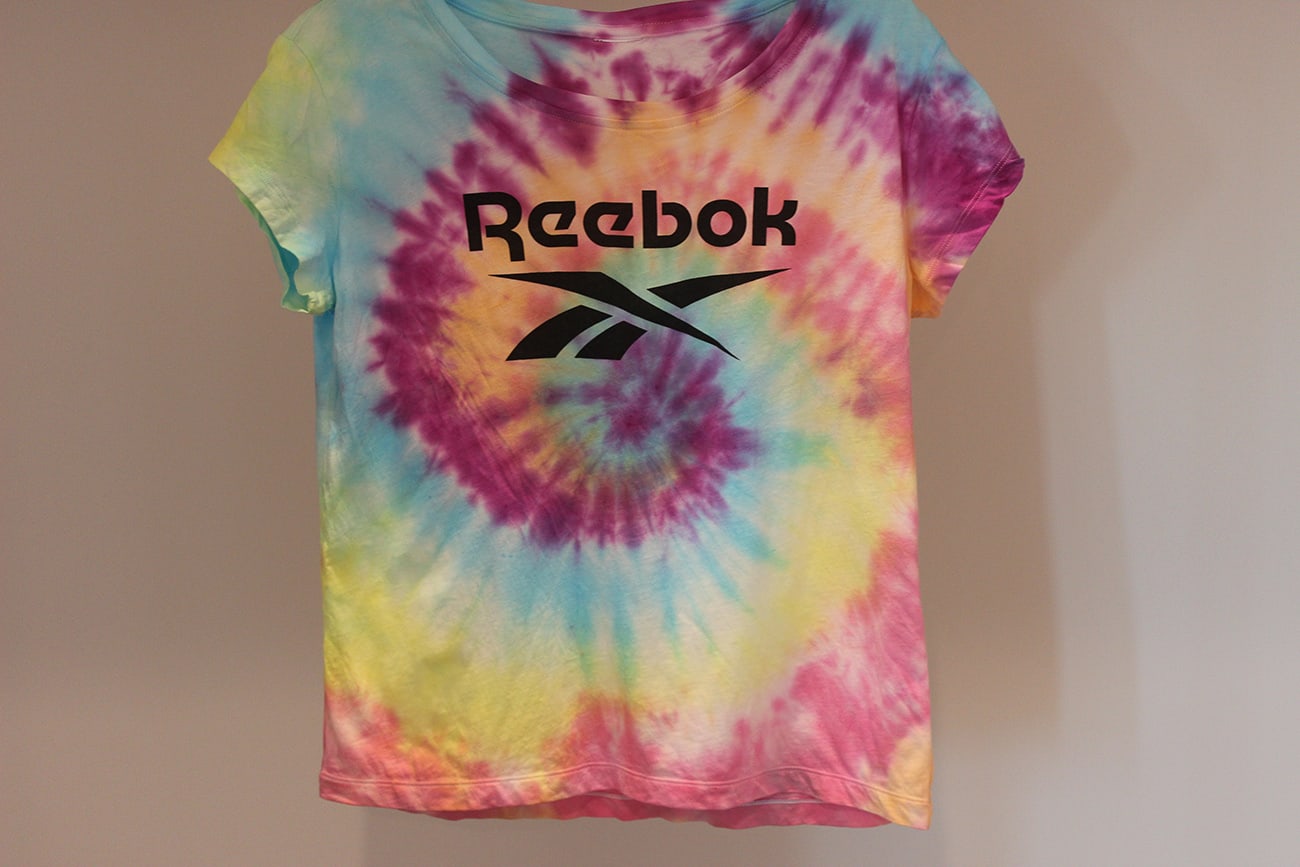 SCRUNCHING TECHNIQUE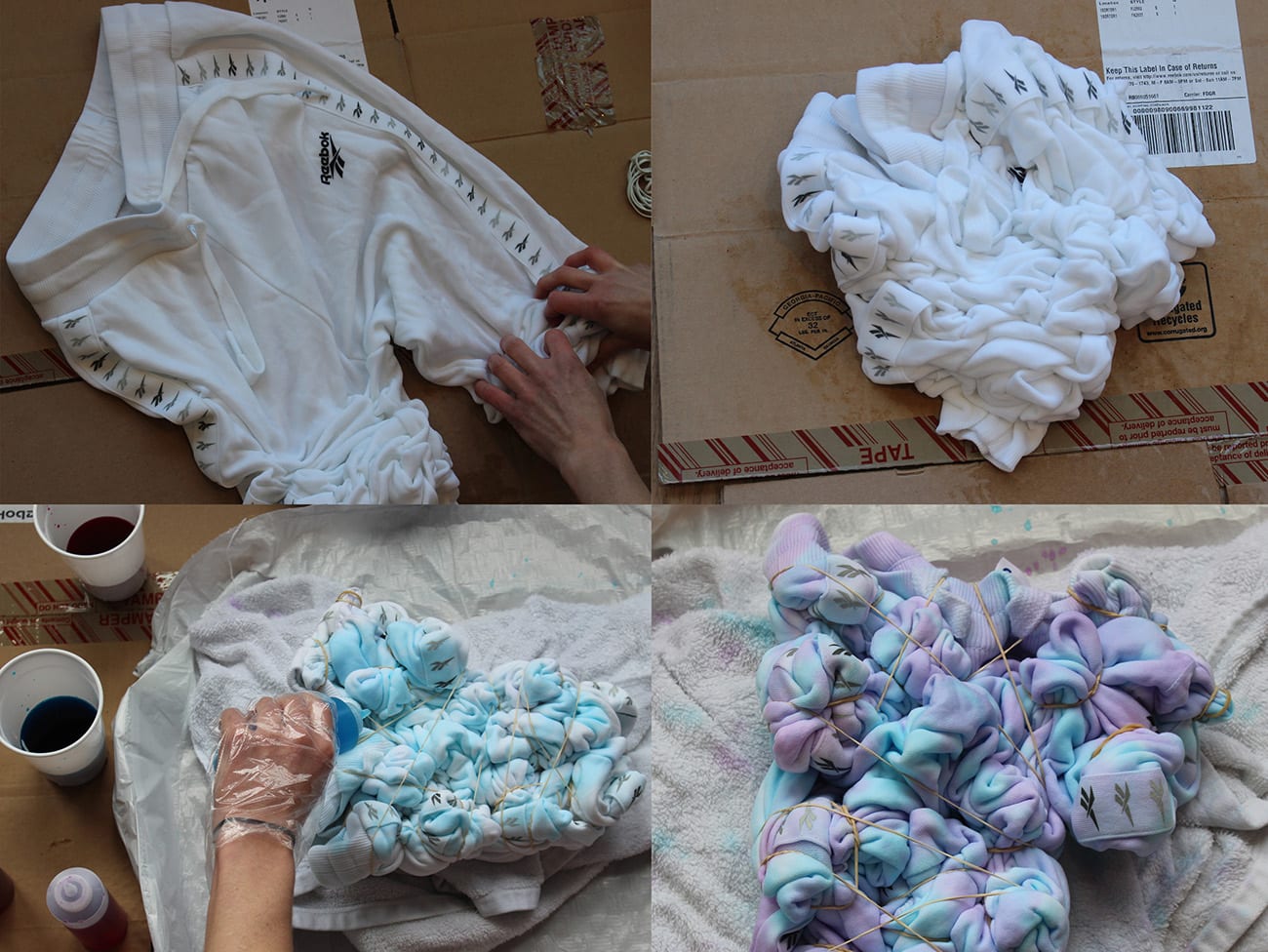 Take small sections and scrunch up. Have rubber bands handy and tie into small sections.
Once full piece is scrunched and tied up, take additional rubber bands and try to make piece more compact by tying around different angles.
Put gloves on and grab your colors. For scrunching, 2 colors tend to look best, but you can do as many as you want.
Add colors evenly across the piece. Make sure to apply color within the crevices and lines of the shirt if you prefer more color/less white in your final result.
Flip piece over and do the same thing to the back.
Put the piece into a Ziplock bag and let sit for 6-24 hours, depending on how bright you want it. Even with pastel colors, you'll get the best results when you let the colors sit for 24 hours.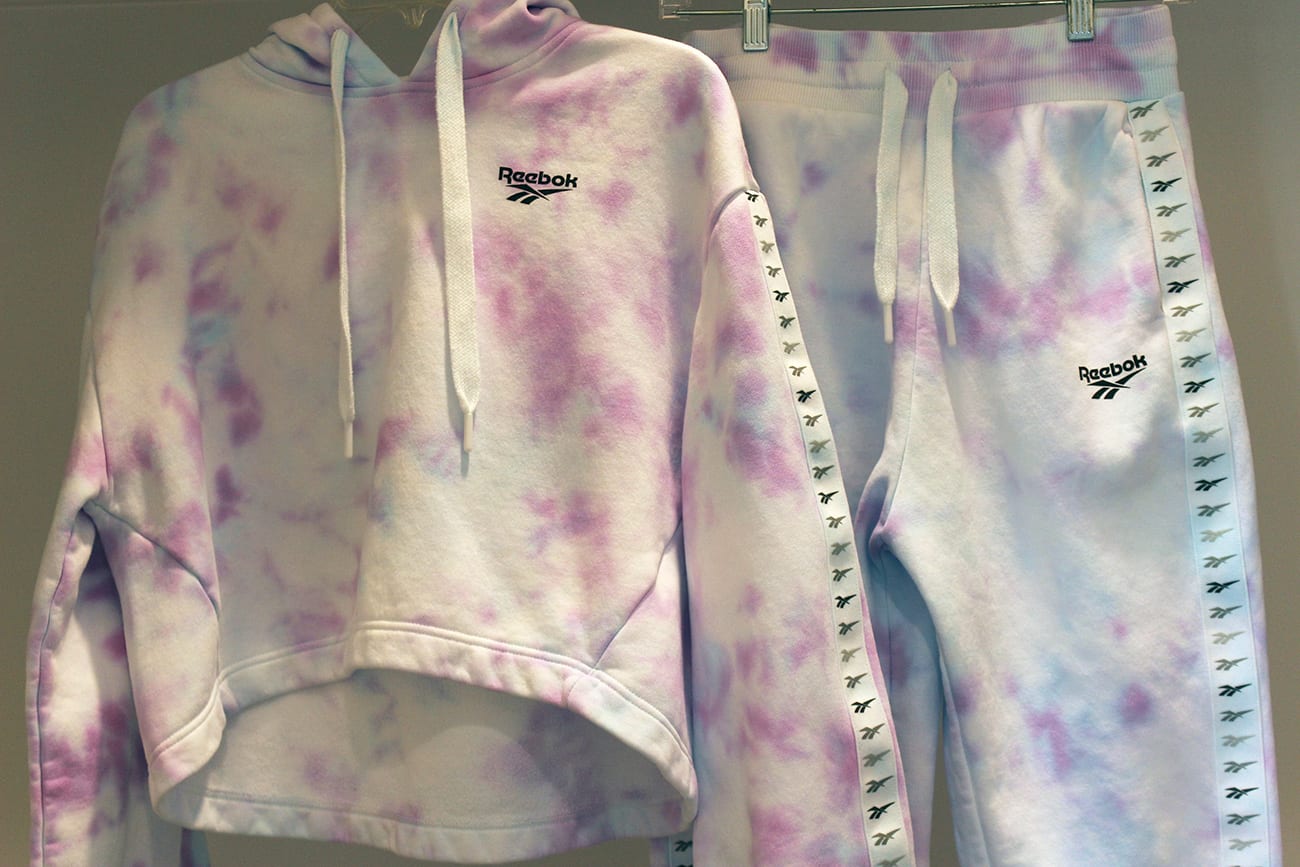 Whether you're working tie-dye into your wardrobe for the ultimate mood boost or just want to create some eye candy, tie dye captures the right vibe. These tips can yield some pretty sensational pieces this spring, check out Reebok's tie-dye and white apparel options below!