Fitfluence
Eating well and keeping fit is essential to living a healthy lifestyle, and over the years, we've all heard about the numerous exercise and diet trends that have swept around the world.
But when helped by social media and influencers, just how popular are they?
Reebok has analysed the most popular exercise and dieting trends around the world and on social media. The study looks at data from Instagram and Twitter, as well as search trends and online media over the last year, all across the globe.
Global Popularity
With the internet being the main source of information for billions around the world, finding out the latest fitness or dieting trend has never been easier. We've taken a look at the most popular trends and how their popularity has increased or decreased over the past year.
Intermittent fasting is the most popular food trend overall as more people become healthy and environmentally conscious. The trend has seen an increase of 62% for Google searches in the past year alone, and an increase of 32% for the number of online articles posted. Furthermore, intermittent fasting is most popular in the Philippines, USA and the Netherlands.
When it comes to exercise, it seems Poland are the most enthusiastic about keeping fit - with the country featuring four times in different exercise trends.
Overall, HIIT and Yoga were the most popular exercises globally, with HIIT having the highest increase in Google searches and the highest increase for online articles.

Social Popularity
When it comes to fitness and diet trends, social media is no stranger. With apps such as Instagram and Twitter, the fitness influencer industry has seen huge success with people around the world looking for inspiration and motivation to start their fitness journey.

In the study, Yoga tops the list as one of the most popular forms of exercise with over 80 million hashtags on Instagram, whilst plant-based ranking above all other diet trends with 27 million.
Cross Training influencers seem to have the edge over other forms of exercise, with the average influencer having over 33,000 followers. Influencers that follow the Paleo diet led the way for dieting trends, with an average of nearly 13,000 followers and over 14 million hashtags.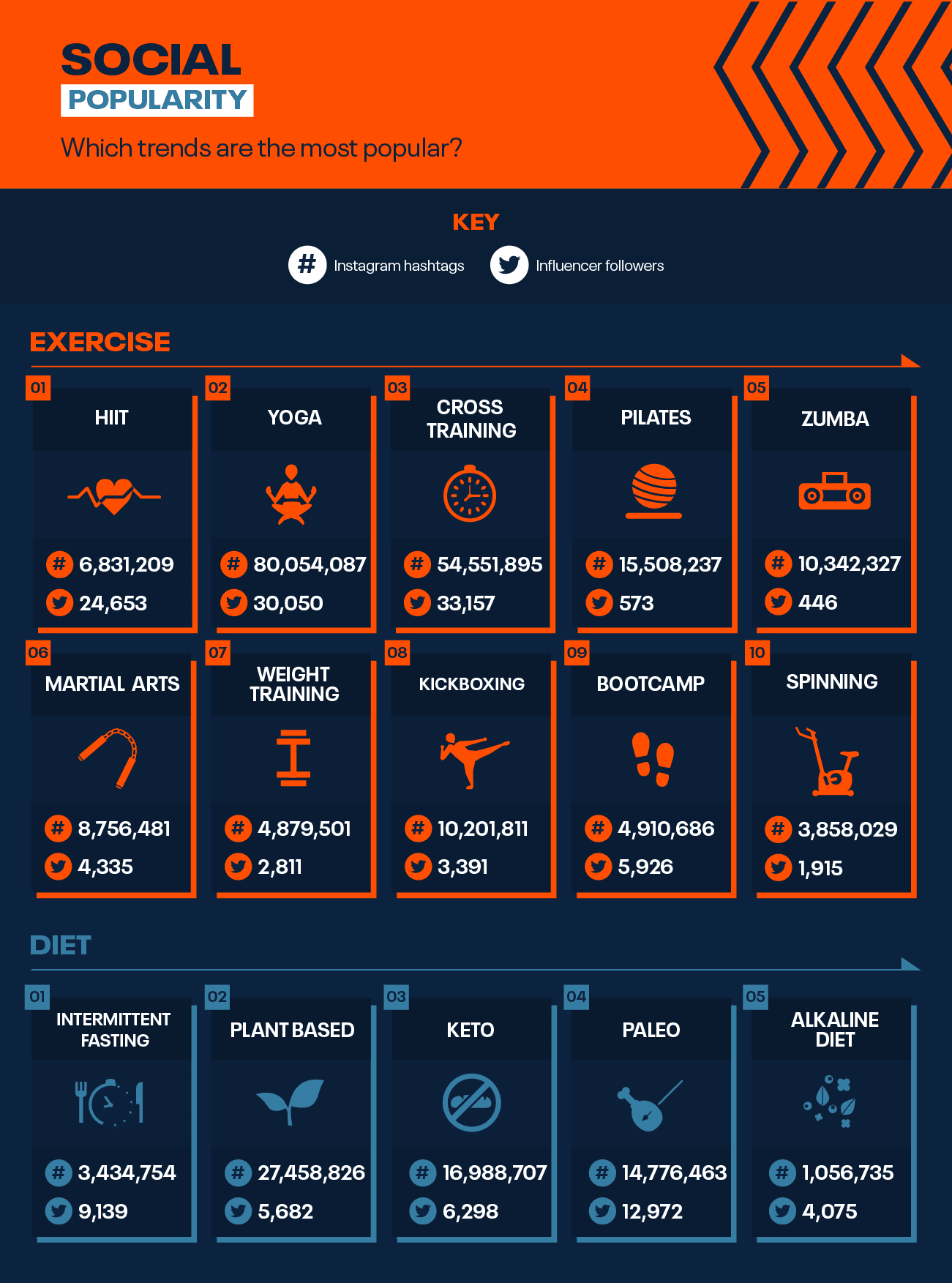 Ready for sports ? Discover the new Nano X.