Pro Tips for Your First Aerial Yoga Class
If you're a lover of pop-culture or fitness, over the last year you're sure to have scrolled past image after image on Instagram of celebs and friends performing crazy upside-down poses in silk hammocks.
That's aerial yoga.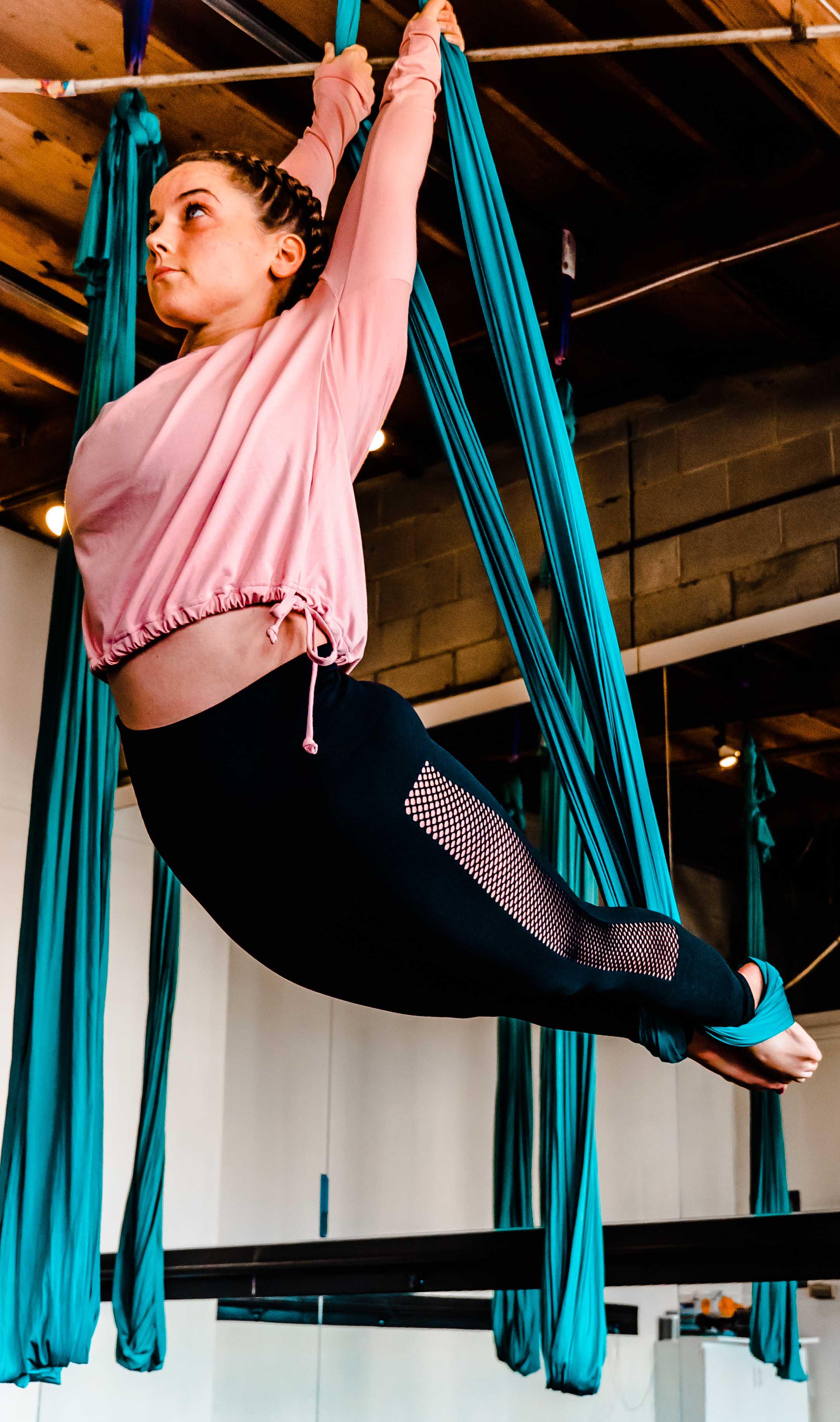 While swinging from a strand of silk may look glamorous, Lindsey Duggan, the Owner of AIR Aerial Fitness' LA location, says it also intimidates many at first. Perhaps that's the reason we're fascinated by it on our screens but hesitant to walk in the door.
"People see it as a little bit of a scarier workout because pictures lead us to believe your feet are never on the ground," Duggan says.
"With aerial [yoga] still being a newer trend, most don't have a clear idea of what is actually going to happen in a class," she continues. "Your feet are definitely not off the ground the whole time!" she laughs.  
To clear things up, Duggan is here to break down exactly what every aerial rookie should know before stepping foot in the studio.
"The more people are prepped for what's going to happen, the more they enjoy themselves," she says. 
Class Structure 
"In a standard 50-minute aerial yoga class, we do a fusion of barre, yoga and HIIT before moving into some aerial tricks," says Duggan.
"All those training methods complement aerial yoga and arm you with the skills you need to have in order to achieve aerial movements and poses," she continues.
So if you're a seasoned yogi or a barre regular, you will already be a step above other beginners in an aerial class because you'll be familiar moving and stretching particular muscles.
Core on Fire
"The quickest way to a six pack has to be aerial," says Duggan, making it clear your core muscles will be put to the test.
Duggan confirms core strength and upper body strength are key.
"But you're also using a lot of different muscles that you don't typically use during most workouts," she adds.
"When working your entire body in a new way like this, you are bound to see changes," continues Duggan.
"That was what hooked me," she says, mentioning she was a distance runner before discovering aerial yoga. "It got exciting to use my body in a different way."
Not a 'One and Done' 
While it's the photo-opp and buzz factor that spark a newbie's interest, Duggan warns you'll have to become a regular to see real results.
"My first class I will never forget," says Duggan. "I was terrible at it."
Now teaching multiple classes a day, she realizes struggling on Day One is normal. If you come in expecting to nail a one-arm, one-legged pose right away, you're setting yourself up for disappointment.
That's where the mental factor of the class comes into play.
"Have no pre-conceived judgments," says Duggan.
"Think of the positive and what you can do instead of focusing on what you can't do."
Like with regular yoga classes, staying in a positive headspace for the duration of the class is the most important part.
"As long as you come in with an open mind, we can put you into different postures and you'll have a great time," Duggan says.
As long as you come in with an open mind, we can put you into different postures and you'll have a great time.
Is aerial yoga your next workout adventure? Tweet @Reebok to tell us what you think of the class.