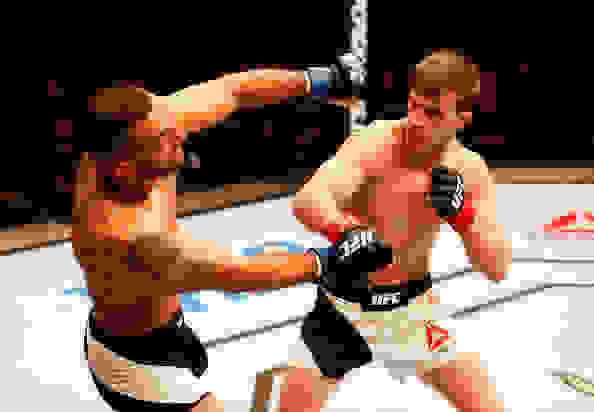 Three Rounds With UFC Fighter Arnold Allen
From chasing dreams and controlling nerves to riding a BMX and wrestling with his brother. We caught up with UFC Featherweight Arnold Allen after his win in London, to see what makes the man tick inside and outside of the Octagon.
 What has been the highlight of your career so far? 
It has to be winning my UFC debut. Taking the fight on a few days notice and coming through adversity to get the win in enemy territory was an unexplainable feeling.
What inspired you to get into MMA? 
Me and my brother have always fans of martial arts and professional wrestling, we were always trying moves or fighting each other so I kind of fell into it after a short stint as an amateur boxer – I wanted to learn more than just boxing I wanted to learn everything. 
What would your life have been like if you had taken a different path? 
My dad has always pushed me to do what I want than just settle for what I could get, so I'm sure I'd be chasing another dream rather than working in an office.
What interests do you have outside of MMA?
I love watching bmx and motorcross. I used to ride bmx when I was younger, but I'm not very good! 
Take us through your training schedule working up to a fight
I try and train hard all year round but little things change when I'm prepping for a fight. I clean my diet up, the intensity goes up and I focus on tactics and a game plan.
For the last 8 weeks before a fight I add sprints to my training for extra conditioning and include more specific drills to counter any potential problems in the fight. So it's all losing weight, conditioning and sharpening my tools really.
Do you get nervous just before a fight?
Definitely. A fight is the ultimate sporting test there is. You have to learn to control your nerves so they help rather than hinder your performance.
What are your mantras to get you through a fight?
I like to visualise my perfect performance and my hand raised.
On your rest days, what do you like to do? 
Usually I get a massage on my rest day so my body is good to go for the next week of training, and of course eat.
How important is strength training as part of your regime, if so, what would you recommend?
I have been working with William Waylaid who is my strength and conditioning coach for the majority of my professional career, it's a big part of my training, just getting a little extra strength to assist my technique is very beneficial.
We do a lot of compound lifts like squats, bench and Romanian deadlifts for strength, and stability and mobility exercises to help prevent injury.
Tell us about your diet leading up to, and after a fight 
Before a fight my diet is very clean I like to stick to a simple low carb high protein diet, I cut out a lot of sugars and have no bread. The majority is chicken and veg / fish and veg type meals.
After a competition I like to make up for the food I didn't eat whilst I was dieting so I will literally eat everything for a couple of weeks. It's a nice way to reset.
How important is mobility as part of your training?
Mobility is very important to me. Not only does it help prevent injuries, but being mobile also makes it easier to perform techniques like high kicks etc.
What are your future goals? 
My ultimate goal is to be the best at my sport.
Fancy getting your kit on and stepping foot inside the Octagon? Or just mixing up your training regime? Check out our combat training range here.